I remember when most of my veggie friends were stuck with a plain pasta dish or boring green salad when eating out. But vegetarian food has come a long, long way in the last few years and that's definitely not the case anymore!
I can safely say that veggies don't seem to miss out on anything in the way of flavor – from lasagna, to burgers and even meatloaf, there is an alternative recipe out there.
Check out seven of my favorite meat-free recipes that make for a healthy lunch or dinner.
Orange Cranberry Cous Cous Salad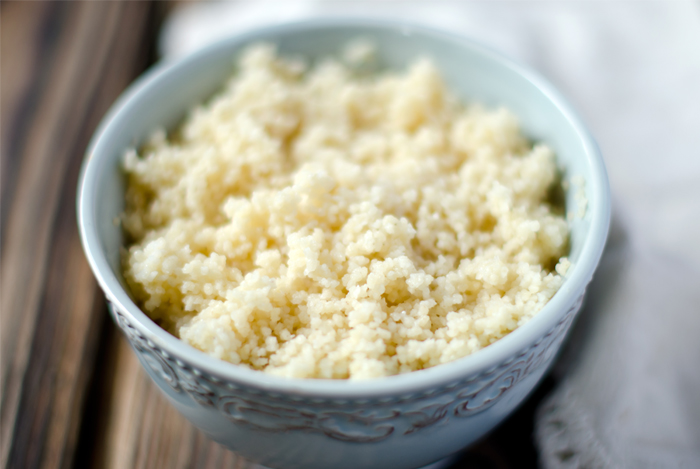 Even the name of this salad by Small World Supper Club conjures up how light, refreshing and healthy it really is.
I first tried a similar salad at Whole Foods that was so good that I trawled through websites to find the precise recipe. It seems I'm not the only one – there are tons of variations on this awesome dish.
I've tried a few, and this is the closest I found. Even if you're not veggie, you should definitely try it out. And, if you're like me and had 'a few' failed attempts at cooking cous cous, don't worry.
This pearl cous cous (also known as Israeli or Jerusalem cous cous) is a bigger sized grain, making it a heck of a lot easier to get right.
The orange juice and zest will add to your RDA of vitamin C, and the pecans add both crunch and antioxidant power. In fact, it has been found that consuming pecans can help lower LDL cholesterol levels by as much as 33%.
Enjoy!
Ingredients
8 oz pearl cous cous
2 green onions, sliced
1 cup dried cranberries
1 cup chopped pecans
3 tbsp olive oil
1 & 1/2 tbsp white wine vinegar
1/2 an orange, zested and juiced
1/2 tsp thyme
1/2 tsp cumin
Salt and pepper, to taste
Directions
Cook the cous cous according to package directions. Add the cranberries a few minutes before it's ready, to soften. Set aside to cool.
Meanwhile, make the dressing by whisking together the olive oil, vinegar, orange juice and zest, thyme and cumin. Set aside.
Combine cous cous, pecans, and green onions and toss with dressing. Season to taste. The flavors will mingle and get stronger over time, so you can prepare ahead of time.
Eggplant Lasagna Roll Ups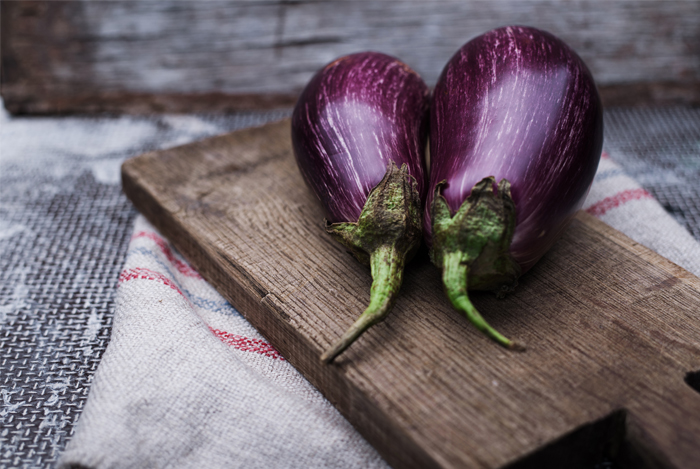 Pretty much everyone likes lasagna right? I know I do.
But, it can be a heavy dish – loaded with white pasta, ground beef, and cheese.
This vegetarian dish (which also works for vegans) by the Minimalist Baker is a lightened up version of the Italian classic that is just loaded with flavor. A definite winner in my book.
By swapping the meat for a tofu filling you're getting rid of saturated fats, without losing out on your protein hit. In fact, this dish has around 6 grams of protein per serving.
Using eggplant instead of pasta (who knew how versatile vegetables can be?) means you won't have that post meal sugar crash that's often caused by simple carbohydrates.
Eggplants contain essential phytonutrients that help improve blood circulation and help our brain, and they're also a good source of fiber.
Even those who are gluten free can satisfy their lasagna cravings with this meal.
One interesting thing I learned from my vegetarian friends is that not all cheese is vegetarian! Who knew?
It turns out that Parmesan is made with animal rennet, so if you're cooking this for a die-hard veggie, make sure to use vegan Parmesan or another cheese without animal products. You can also leave out the cheese if you prefer.
Ingredients (makes 11 to 12 rolls)
2 eggplants, sliced lengthwise into 12 x 1/4-inch slices
Tofu Filling
2 lemons, juiced
12 oz block extra firm tofu, drained and pressed
3 tbsp nutritional yeast
1/2 cup fresh basil, finely chopped
1 tbsp dried oregano
3-4 tbsp extra virgin olive oil
Salt & pepper
For Serving
Vegetarian Parmesan cheese or other cheese (optional)
2-3 cups marinara sauce
Fresh basil, chopped (optional)
Directions
Preheat oven to 425F. Salt eggplant slices on both sides and arrange in a colander in the sink to remove excess water/bitterness for 15 minutes. Rinse and dry thoroughly then arrange on a baking sheet and bake for 13 to 15 minutes.
Meanwhile, add tofu filling ingredients to a food processor and pulse to combine, until semi-pureed. Taste and adjust seasonings as necessary. Set aside.
Remove eggplant from oven, set aside and reduce oven to 375F.
Pour 1 cup marinara sauce into an 8×8 baking dish. Scoop about 3 tbsp of ricotta filling onto each eggplant slice and roll up. Place seam side down in the sauce-lined baking dish. Pour remaining sauce on top of the rolls.
Bake for 15 to 23 minutes, or until sauce is bubbly and warm and the top of the rolls are slightly browned. Serve immediately with optional toppings.
Rejuvenating Bowl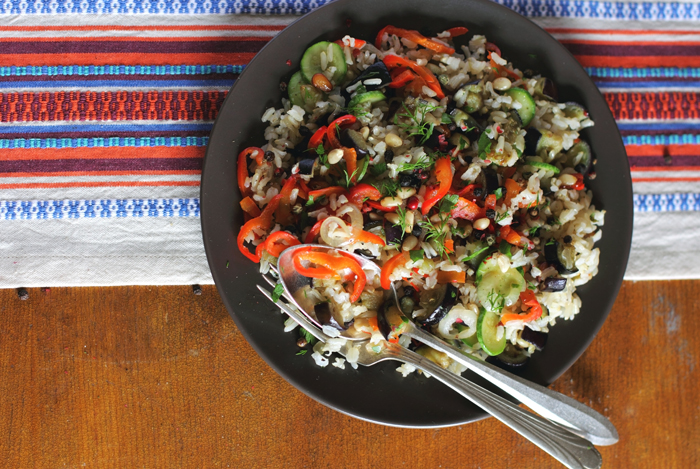 This recipe by Deliciously Ella is based on a very simple concept. Just throw as many healthy and energizing ingredients as you can into a bowl and enjoy.
And it works crazy well – especially if you're feeling tired, moody or just generally 'out of sorts'.
The base ingredients of the dish are:
Brown Rice – a whole grain that can fight heart disease, help lower cholesterol, stabilize blood sugar levels, and aid weight loss efforts.
Sweet Potato – containing almost twice as much fiber as other types of potatoes, these babies are rich in vitamin B6 and potassium for heart health, beta carotene for healthy eyes, and vitamins C and E for healthy skin and immunity.
Spinach – even healthier than kale, spinach contains a ton of vitamins, is said to lower hunger and promote weight loss, and has been used for centuries as a treatment for insomnia, headaches and bad skin.
Black Beans – known to supercharge weight loss, these beans support healthy digestion and are a great source of fiber, folate, copper, manganese, vitamin B1, phosphorus, magnesium, protein, and iron. Wow!
So you can see why this Rejuvenating Bowl lives up to its name – it's clean eating at its best. Did I mention it's also surprisingly tasty and simple to make?
Ingredients (serves 2)
2/3 cup of brown rice
2 sweet potatoes
1 can black beans
1 bag of spinach
3 cloves of garlic
2 tbsp olive oil
1 lemon
1 tbsp tahini
1 tsp tamari
For the Dressing
2 tbsp tahini
3 tbsp olive oil
1 tbsp water
Directions
Cook the rice according to package instructions. Once done, stir the juice of half a lemon into it.
Meanwhile, peel the sweet potato, cut into chunks and steam until soft. Mash the cooked sweet potato with 2 cloves of crushed garlic, 1 tbsp tahini, the juice of half a lemon and a little salt.
Place the drained and rinsed beans, spinach, tamari and the final crushed clove of garlic into a pan and sauté for a couple of minute until the spinach has wilted and the beans are hot.
Finally mix the dressing together, then place everything in a bowl and pour on the dressing.
Mom's Ultimate 'Meatless' Meatloaf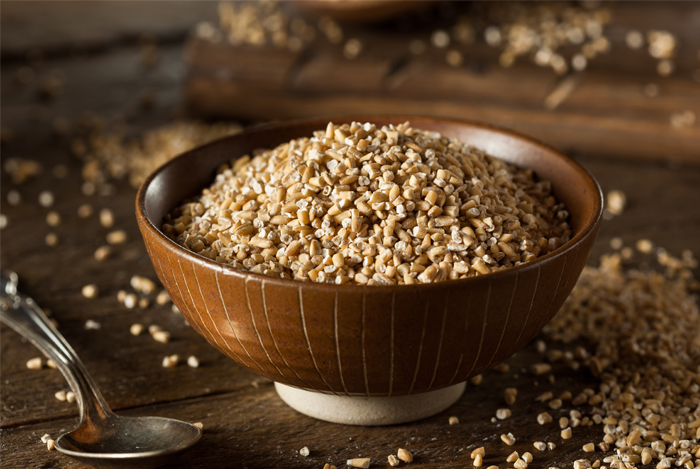 This vegetarian meatloaf recipe from Ambitious Kitchen won't quite fool you into thinking it's the real deal, but it's tasty and filling enough that you won't miss the meat.
It has a lot of ingredients, but it freezes well so you can make a few at a time and freeze them for up to three months.
Plenty of vegetables like garlic, onion, bell pepper, and carrots add fiber, antioxidant, and anti-inflammatory benefits.
Lentils are a solid source of protein, with 18 g per cup. And according to Calorie Count, one serving of this loaf has a whopping 14.5 g of protein. Not bad for a meatless meal, huh?
Ingredients (serves 5)
1 cup green lentils
3 tablespoons flaxseed meal
4 garlic cloves, minced
1 small white or yellow onion, diced
1 red bell pepper, finely diced
1 carrot, finely diced
1/2 jalapeno, seeded and diced, optional
1/2 cup gluten free oats
1/2 cup gluten free oat flour (buy or make your own)
1 tablespoon fresh chopped basil (about 2-3 leaves)
1/2 teaspoon cumin
1/4 teaspoon ground chipotle pepper
freshly ground salt and pepper, to taste
For the Glaze
1/3 cup tomato sauce
1 tablespoon yellow mustard
1 tablespoon dark brown sugar
2 teaspoons apple cider vinegar
dash of gluten free soy sauce
dash of hot sauce, optional
Directions
Rinse the lentils and add to a pot with 2 cups of water and a dash of salt. Bring to a boil, then reduce heat and simmer for 35-40 minutes or until lentils absorb the water. Remove and set aside.
Preheat oven to 350F. Line a 9 inch loaf pan with parchment paper.
Mix flaxseed meal and 1/3 cup water to a small bowl and place in the refrigerator while you make the rest of the loaf.
Add your choice of cooking oil to a large pan over a medium heat. Add in garlic, onion, bell pepper, carrots and jalapeno; sauté until onions and carrots begin to soften. Transfer to a large bowl and stir in spices and basil; set aside.
Using a blender or food processor, blend 1/2 the lentils. Transfer to the bowl with the sautéed veggies, and stir in the remaining lentils along with the oats, oat flour, and flaxseed mix from the fridge. Season to taste.
Add mixture to prepared loaf pan, pressing and smoothing to the side to make sure it bakes evenly. Prepare your glaze by combining all ingredients and spreading on top of the loaf. Bake for 45 minutes. Remove from heat and cool for 5-10 minutes.
Cauliflower Falafel Veggie Burgers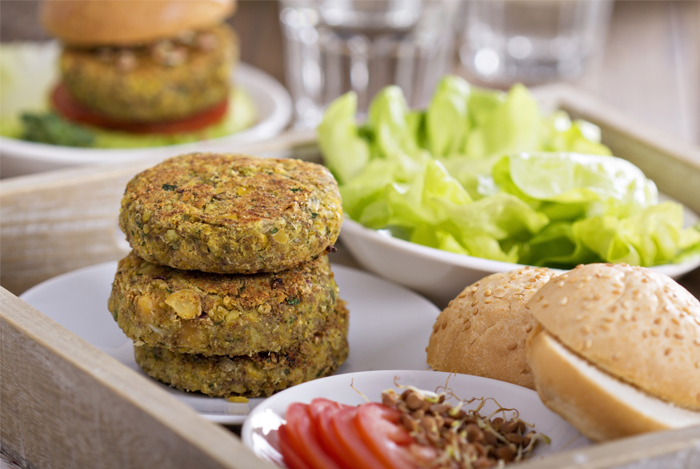 These veggie burgers by Cookie and Kate are a little different than your standard bean burger – which I'm sure even the most hard core vegetarians get sick of from time to time.
They taste like a falafel, but they're lightened up with cauliflower rice (which you might remember from this low carb recipe).
Herbs, spices and garlic add some serious flavor (not to mention anti-inflammatory benefits), and quinoa, oats, and chickpeas add protein and fiber. These will keep you powering right through the day – guaranteed.
I like to eat these burgers in a toasted wholegrain bap with hummus, lettuce, and tomato, or on their own with a salad.
Ingredients (makes 7 burgers)
1 cup cooked quinoa
1/2 large head of cauliflower, broken into florets
15 oz can chickpeas, rinsed and drained
1/2 cup chopped green onion
1/2 cup lightly packed fresh cilantro leaves, chopped
1/2 cup lightly packed fresh flat-leaf parsley leaves, chopped
2 large cloves garlic, minced
1 tbsp cooking oil
1 & 1/2 tsp ground cumin
1 tsp salt
1/2 tsp cinnamon
Pinch red pepper flakes
Freshly ground black pepper, to taste
1 & 1/4 cups old fashioned oats
Instructions
Pulse cauliflower in a food processor until it has a couscous-like texture.
In a mixing bowl, add cauliflower, cooked quinoa, chickpeas, green onion, cilantro, parsley, garlic, olive oil, cumin, salt, cinnamon and red pepper flakes. Combine really well, ensuring the chickpeas are mashed so the burgers hold together.
Then, process the oats until the flakes are broken up, but not as fine as flour.
Mix the oats with the rest of your ingredients and shape into patties. (If they won't hold together, keep mashing until they do). If you have time, chill patties so they hold up better when cooking.
Heat cooking oil and pan fry the burgers in a large cast iron skillet with over medium heat until golden brown.
Spicy Bean Stew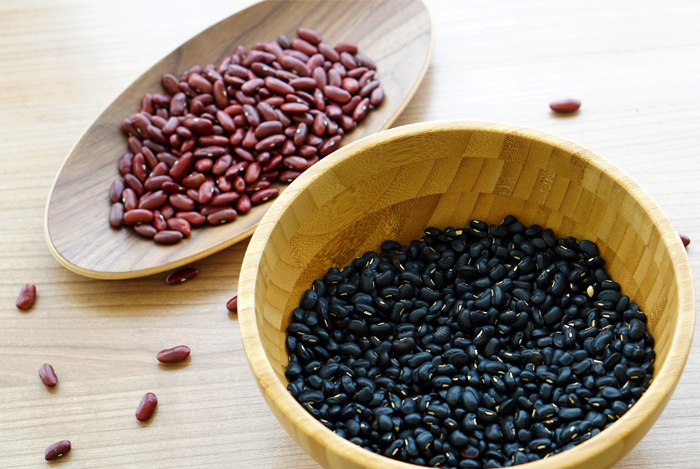 Anyone interested in a tasty, filling meal that takes just five minutes to prep? Well, I am!
This spicy bean stew recipe from the Pescetarian Kitchen does just that! It's also the ideal thing to head home to on a cold winter evening.
Black eye beans are full of potassium to keep your blood pressure stable and support healthy muscles and bones.
Kidney beans give you energy to burn while stabilizing blood sugar, and contain vitamin B1 to boost your memory.
Both beans are full of fiber and protein, which is essential for a healthy immune system and to transport nutrients around our body. I guess we know where the expression 'full of beans' came from.
Ingredients
2 carrots, diced
1 leek, diced
2 garlic cloves, roughly chopped
1 can chopped tomatoes
Juice of 1 lemon
1 & 3/4 cups vegetable stock
1/4 cup white wine
1/2 can black eye beans
1/2 can kidney beans
1/2 a chili, roughly chopped
1 tbsp cooking oil
1 tsp chili powder
Salt and pepper
Directions
Heat the oil in a large pan on medium heat, then add the leek and cook until it begins to soften. Add the carrots and cook for another 4 minutes.
Pour in the white wine, garlic and fresh chili and cook for a further 2 minutes. Then add the chopped tomatoes, stock and lemon juice. Bring to a boil, stirring regularly, then simmer for 30 minutes, allowing the stew to thicken.
Drain the kidney beans and black eye beans and pour them into the stew. Season to taste using salt and pepper, and add in some chili powder if you want more spice.
Simmer for 5 more minutes, then serve hot.
Roasted Peppers Stuffed with Goat Cheese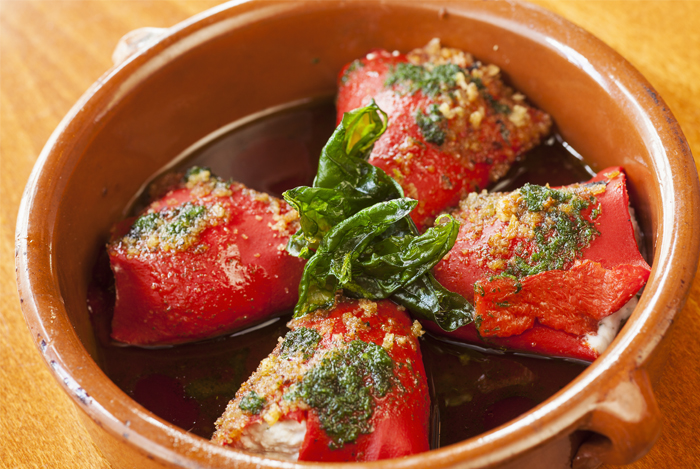 Need to make an easy but impressive meal? Try this recipe by Country Living. I like to serve it with an arugula side salad and some baked sweet potato fries.
It's also a good meal for those who are watching their weight or looking to shed pounds but still want a tasty dinner.
Peppers are low in calories, but full of vitamin C, antioxidants, phytonutrients, and vitamin E for glowing skin.
And goat cheese is superior to cow cheese as it has just 80 calories and 6 grams of fat per ounce, compared with cow cheese's 100 calories and 10 grams of fat. It also has 5 g of protein per ounce. And, it can actually be tolerated by some people who are lactose intolerant.
Ingredients (makes 8 peppers)
8 sweet peppers
1 oz golden raisins
2 tsp sea salt
1 tsp freshly ground black pepper
8 oz mild soft goat cheese
Handful of basil leaves
2 oz pine nuts
2 tbsp breadcrumbs
1/4 cup extra-virgin olive oil
pinch cayenne pepper (optional)
Directions
Roast peppers under broiler or over an open flame, turning frequently until blistered and blackened on all sides. Place in a large bowl, cover tightly with plastic wrap, and let sit for 15 minutes to steam. When cool, use a paring knife to peel off skin. Slit each pepper down one side. Remove stem and seeds.
Meanwhile, preheat oven to 475F. In a small bowl, add raisins and 1 cup of boiling water. Let sit for 5 minutes, then drain and set aside.
Place peppers, peeled sides down, on a cutting board and press lightly to flatten. Sprinkle with sea salt and black pepper. Divide goat cheese into eighths and shape each into a log about 1 & 1/2 includes long. Place each log on top of a pepper. Sprinkle cheese with three-quarters of basil, then pine nuts and raisins. Fold each pepper over and press to flatten.
Place peppers on a baking pan. Sprinkle with breadcrumbs and drizzle with oil and cayenne if using. Bake peppers until breadcrumbs are golden (about 10 minutes). Garnish with remaining basil.
Did you know that not all cheese is vegetarian? What are your favorite veggie meals?
The post 7 Awesome Vegetarian Recipes appeared first on Nutrition Secrets.
http://www.nutritionsecrets.com/awesome-vegetarian-recipes/