Matcha tea is the new "it" drink to consume by individuals of all ages, but matcha is well-known for more than just its trendy green glow.
Matcha is an incredible source of antioxidants, vitamins, minerals, and chlorophyll that make it a great drink to consume if you're looking to boost your mood and energy naturally.
Most people turn to coffee when they need a pick me up; others may turn to sugar and energy drinks. But matcha is a better alternative and a healthier way to boost your mood and energy because it doesn't come with the same side effects as coffee and processed foods.
In fact, matcha is one of the best ways to improve your health in such a small serving per day and it's a more natural way to improve your focus than harsher stimulants are.
Matcha: A Briefing and Why You Should Consider It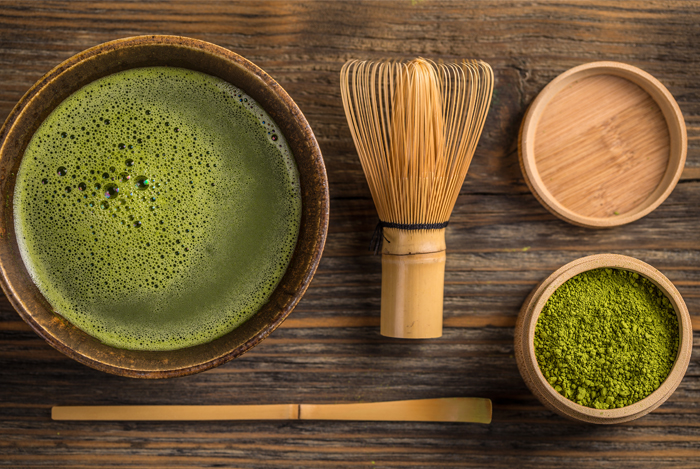 Matcha is unadulterated green tea that is shade grown and never heated like normal green tea is.
Because it is not processed, it retains a bright green color and has a slightly sweeter and lighter flavor than regular green tea, although matcha still retains the grounding earthy and grassy notes that regular green tea does.
Nutritionally speaking, matcha is most well-known for its alkaline nature and high chlorophyll content. Its bright green color proves how nourishing the tea is and as a result, it's a great way to reduce inflammation unlike coffee and sugar which are actually pro-inflammatory.
The antioxidants in matcha, which are known as catechins, have also been linked to preventing cancer and reducing the signs of aging.
Matcha also contains a much larger amount of the amino acid L-theanine than regular green tea. L-theanine is an amino acid strongly linked to reducing anxiety and improving vitality.
What About the Caffeine in Matcha?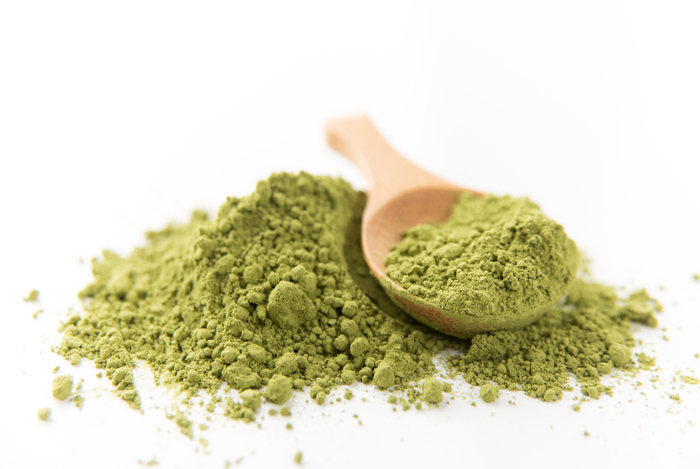 Matcha has about ½ the amount of caffeine as regular black coffee per serving, and although matcha contains caffeine, it actually induces a calming effect providing steady energy unlike the quick hit of energy from coffee that follows with a crash later on in the day.
Matcha is also a great source of minerals and is higher in the antioxidant compound EGCG than regular green tea. The high EGCG content of matcha make it optimal for boosting metabolism and improving weight loss efforts when consumed with a healthy diet.
So, now that you know the benefits of matcha, here are five ways you can consider adding it to your diet.
5 Ways to Use Matcha to Boost Your Mood and Energy:
1. Add it to a Smoothie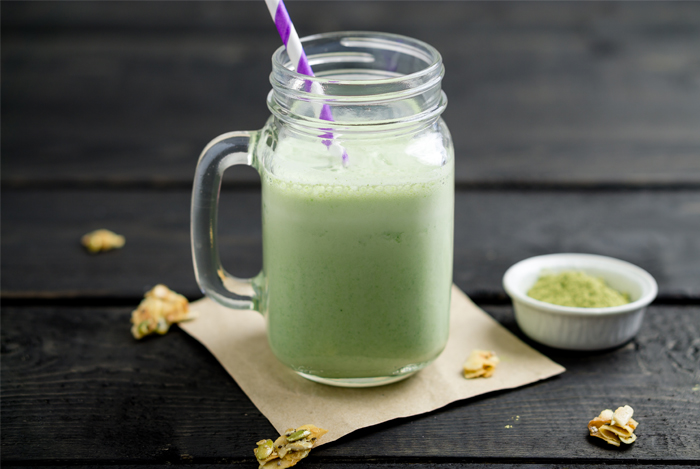 When all else fails, you can add just about any natural superfood like matcha to a smoothie and get a variety of benefits fast.
Smoothies allow you to absorb your nutrients more quickly, and they can even be made thick into smoothie bowls by reducing the liquid by ½ a cup or so.
When it comes to smoothie choices, however, they're not all created equal.
Smoothies should be filled with equal amounts fresh fruits and veggies (or greens) and be packed with only nutrient-dense foods, such as superfoods or high-quality protein powders.
Matcha is great to use in smoothies because it's a natural superfood that lends an earthy flavor and it will balance out the taste of sweeter fruits. You can also use matcha in place of other green powders if you like since it's extremely high in chlorophyll and nutrients.
Here's a recipe you can use to test out matcha in a smoothie in the morning or afternoon.
Ingredients (*choose organic for optimal nutrition when possible):
2 cups of baby spinach

1 cup your choice non-dairy milk (preferably unsweetened)

½ a frozen banana

½ a cup of frozen blueberries

1 teaspoon of matcha powder

1 scoop your choice protein powder (such as pea or

hemp protein

) or ½ cup rolled oats for natural protein

½ cup ice

1 cup cold filtered water

(optional): any other superfoods you enjoy (such as 1 tsp. of

maca

or

coconut oil

)
Directions:
1. Add all the ingredients to your blender in the order listed and blend on low, then progress to high until you have a thick and frothy drink. Enjoy!
One little tip: Be sure not to consume matcha in a nighttime smoothie. Although it has a calming effect and doesn't cause jitters like coffee, a smoothie made with matcha may still keep you awake at night since matcha is a natural source of caffeine.
2. In a Warm Matcha Latté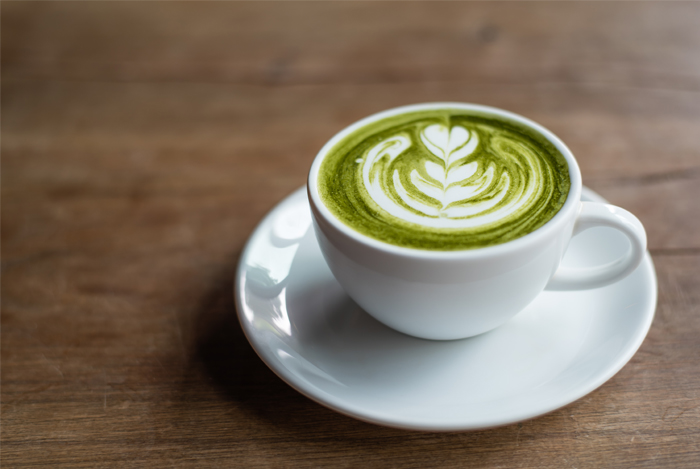 If you love the way a cup of hot coffee makes you feel in the morning, then go for a warm matcha latté instead.
Matcha is traditionally made into a warm beverage by natives of Japan where matcha originates from. You can create a similar warm beverage at home and upgrade it just a bit to help it feel more like a coffee drink.
The key to making a warm matcha latté is to bring the water to just under boiling heat so it doesn't get too hot; hot temperatures above boiling temps will decrease many of the nutrients matcha contains.
Here's a great recipe to get you started.
Ingredients:
1 cup filtered water

½ cup non-dairy milk

1 tsp. matcha powder

(optional): natural sweetener of choice (stevia, monk fruit extract, honey, coconut nectar)
Directions:
Bring the water and non-dairy milk to high heat in a pot on the stove or a kettle. Let it heat just until it starts to bubble, right before boiling.

Turn off the heat source and remove from the stove.

Add the warm liquid into a blender and add the matcha and sweetener if using.

Blend until frothy, pour into a warm mug, and enjoy!
Some people also like to add a teaspoon or so of coconut oil to their matcha latté for a more filling beverage that also provides more energy since coconut oil is a natural source of energizing MCT fats. Be sure to choose extra-virgin coconut oil if you want to try this option out and blend it with the matcha and warmed water.
You can also add maca to a matcha latté for an extra source of caffeine-free energy and a nice, warming caramel flavor. Experiment with a few different recipes to see how you enjoy matcha the most!
3. Add it to Energy Balls and Bites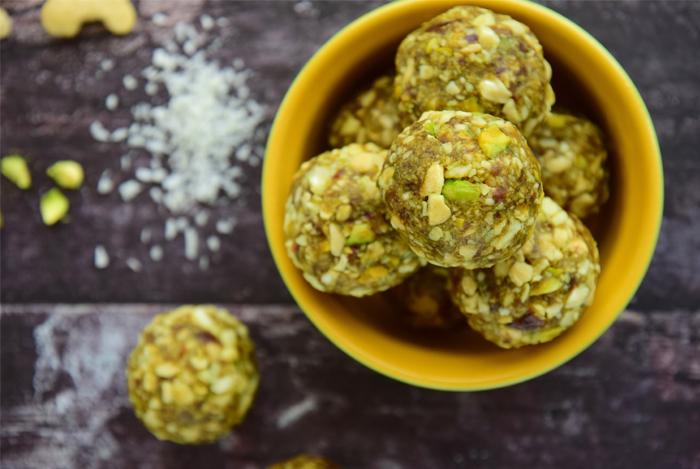 Energy balls are a popular recipe among many food blogs today as well as families and college students that need a healthy replacement to sugary trail mixes and granola bars.
Energy balls and bites are normally made with oats, nuts, seeds, coconut, dried fruit, superfoods, and/or nut butters. You can really make them into anything you want and swap out a variety of healthy ingredients for one another.
Energy balls and bites can be enjoyed at the office, for a quick breakfast when you're out of time to eat a real meal, and they're a great dessert to enjoy in place of cake and cookies. Best of all, you make a huge batch of energy balls and store them in the fridge for 2 weeks or the freezer for 1 month so you're always prepared.
Matcha makes a great addition to energy balls and bites since it's naturally energizing and it adds a fun color. Ready to try it out?
Here's a healthy energy ball recipe to trying using matcha that you can try.
Ingredients:
1 cup gluten-free rolled oats

1 cup raw almond butter or natural peanut butter

½ cup dates soaked in water

½ cup raisins or goji berries soaked in water

¼ cup desiccated coconut (unsweetened shredded)

2 tablespoon matcha powder

(optional): 1 tsp. each of other superfoods such as cacao, maca, acai powder
Directions:
First, soak the dates and raisins (or goji berries) in water for at least 30 minutes (if the dates are not pitted, remove the pits before you soak them).

When you're ready to make the energy balls, drain the soaked dates and raisins and reserve ¼ cup of the soaking water. Set aside.

Add the oats, raw almond butter, soaked dates and raisins, coconut, and matcha powder to a food processor in that order. Add any additional superfoods if using. Then add the ¼ cup reserved soaking water on top (this helps it blend better).

Process until you get a thick, sticky dough; it should look like a thick ball of cookie dough.

Turn off the food processor, and scoop out the dough into small balls with your hands or you can use a small cookie dough scoop.

Roll each segment of dough into a uniform ball until smooth, and place on a glass plate or a baking pan covered in parchment paper spaced out evenly.

Once all the balls have been made, pop them in the fridge for an hour or the freezer for 15 minutes to set.

Store 2-3 balls in baggies for easy servings and keep them in a covered container (with a lid) in the fridge for 2 weeks or the freezer for up to 1 month. This recipe makes about 20 (1.5" x 1.5") energy balls.
4. Stir it Into Oatmeal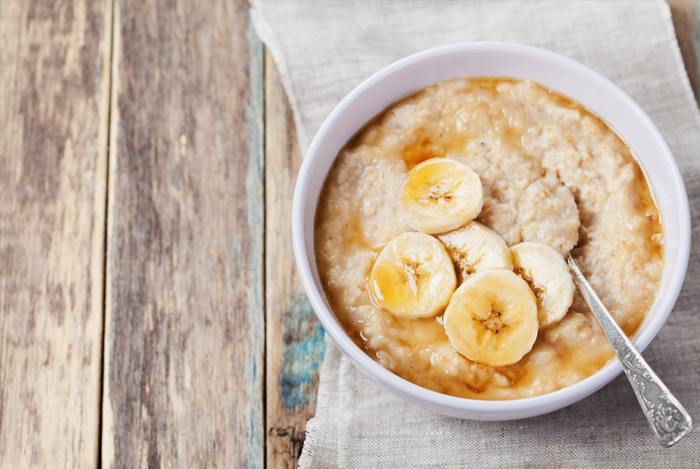 For a fun pop of color and a natural energy boost, make yourself some warm oatmeal or overnight oatmeal and add matcha to it.
Oatmeal is already a fantastic source of energy you can eat each day since it's high in protein, complex carbs, B vitamins, and minerals such as iron and zinc. Oatmeal can also help boost your mood since it's rich in the amino acid tryptophan that helps improve your mood by reducing anxiety and stress.
Once you add matcha to oatmeal, you'll get a double dose of energy and a boost in your mood without the negative effects that come with drinking coffee and eating sugary foods first thing in the day.
The key to adding matcha to oatmeal and having it taste great is to add some form of sweetness to balance out the natural grassy flavor that matcha contains. Optimal options include banana, stevia, and blueberries or raisins since they're better for you than added sweeteners.
Here's a delicious and easy overnight oatmeal recipe that you can use matcha in.
Ingredients:
½ cup gluten-free rolled oats

1 tablespoon each of ground flax and whole chia seeds

1 cup your choice non-dairy milk

½ a banana, chopped into slices

¼ cup frozen blueberries

1 tsp. matcha powder
Directions:
Add the oats, flax, chia, and matcha to a bowl or mason jar. Sift to combine.

Next, add in the banana slices and frozen blueberries(these will melt overnight and create a naturally sweet syrup).




Pour on the non-dairy milk on top of the mixture and stir just until incorporated.

Cover and put the bowl (or jar) in the fridge for at least 6 hours to set or overnight.

Remove and enjoy for a quick breakfast on the go!
To prepare this recipe into a hot bowl of oats, cook the oats on the stove in the milk as you normally would, let them cool for 2 minutes, scoop the mixture into a bowl, and then add in the rest of ingredients before serving.

5. Make an Energizing Slushy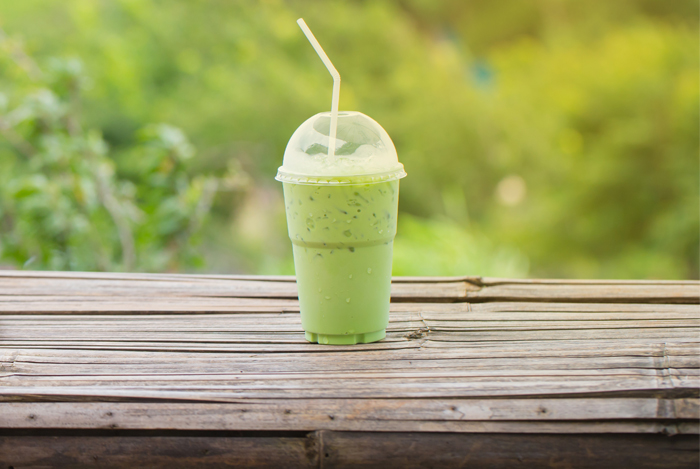 Here's a fun way to use matcha to cool off that's a much better replacement to sugary slushies sold in stores or food carts. Basically, the concept is to blend matcha with ice and a few other healthy ingredients to make an energizing slushie that also cools you off.
This recipe idea is a great option after a workout or can be used before a workout by adding a scoop of protein powder. It's also nice to have in place of iced coffee in the morning during the summer in place of iced coffee too.
Here's how to make it:
Ingredients:
1 cup cubes

1 ½ cups filtered water

Juice from ½ a lemon or lime

Dash of stevia (or 1 tsp. honey or coconut nectar)

2 tsp. matcha powder

(optional): 1 scoop of protein powder and/or dash of ginger, cinnamon, or cayenne for more spice
Directions:
Add the ingredients into a large blender or a personalize blender and blend. Pour into a serving glass or to-go cup and enjoy!
Tips for Buying Matcha: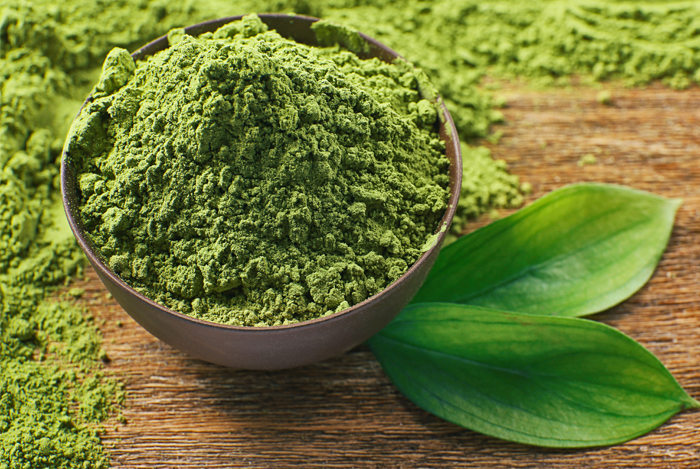 When purchasing matcha, be careful with how you spend your money.
Cheap matcha is usually not an optimal form of matcha, so be sure to look for a certified organic matcha that is preferably 2nd harvest or ceremonial grade matcha.
These terms mean that the matcha has not been treated with pesticides and that's it's made from the best leaves possible. Matcha green tea should never be a dark, ruddy color; it should be a bright, spring green color that nearly glows.
Matcha is not cheap, but a little matcha will go a long way and you can choose to reduce the amount per recipe to stretch out the servings even further. It's also a more natural way to boost your energy each day than the less-than-optimal sources most people turn to.
More Energy-Boosting Tips: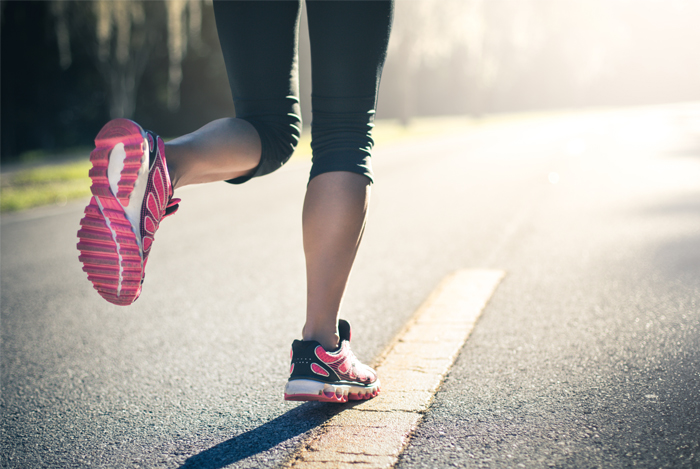 In addition to trying matcha, here are some other things you can do to boost your mood and energy:
Get at least 8 hours of sleep. You have to give your body what it needs by resting properly each night so it can give you the energy you need.

Here are some tips

to try if you have a hard time getting to sleep at night.

Eat a clean, balanced diet. Eating a clean diet means eliminating processed foods as much as possible and eating mostly fruits, vegetables, greens, whole grains, legumes, and if you eat animal products, choose organic and hormone-free eggs and/or wild fish. Reduce the amount of meat in your diet to

improve benefits

even further.

Exercise each day. Even just 30 minutes can give you a boost in metabolic function and it's a great way to improve your mood too!
Now, pick yourself up some matcha at a health food store or online and give it a try. Here are some other foods you can also use to improve your energy naturally too!
The post 5 Ways to Use Matcha Tea to Boost Your Mood and Energy appeared first on Nutrition Secrets.
http://www.nutritionsecrets.com/5-ways-to-use-matcha-tea-to-boost-your-mood-and-energy/