I'm a firm believer that eating healthily doesn't mean you have to deprive yourself, and you definitely don't need to turn down every sweet treat that comes your way.
Turns out, there are plenty of healthy dessert recipes out there – many of them tasting even better than their sugar laden, fat-filled counterparts!
Whether you're craving a chocolate pudding, a lightened-up apple pie, or even some Oreo cookies, I've got you covered with these seven healthy recipes.
Go on and treat yourself – guilt-free!
Dark Chocolate Pudding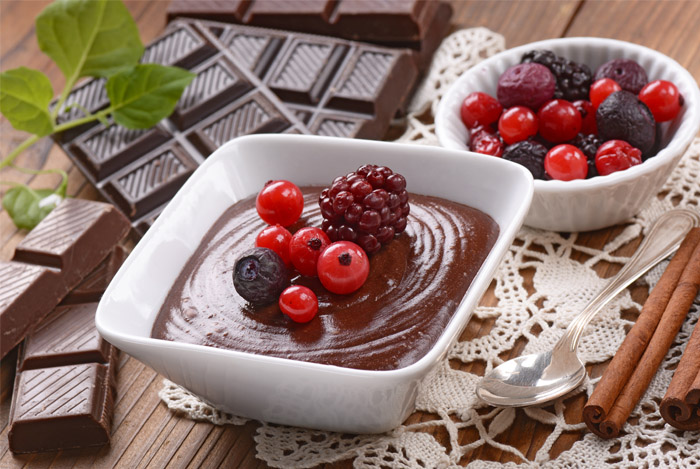 This decadent dessert by Maria and Josh over at Two Peas & Their Pod contains not one, but two incredibly healthy foods that I've talked about before.
The obvious one being dark chocolate – or more specifically cocoa powder.
A little bit of cocoa powder has been known to rev up the libido in both guys and girls, thanks to its l-arginine content.
It has also been found to reduce the risk of cardiovascular death by 50%, help lower blood pressure, protect the brain from oxidative stress and aging, and control blood sugar levels. (You can find out more about dark chocolate's health benefits here).
The second important ingredient is a little less obvious!
It's avocado! Rich, creamy and nutritious avocado.
Not only are avocados a great source of healthy fats, and over 20 vitamins and minerals, but they have been found in studies to control blood glucose levels, help maintain a healthy weight, and even reduce symptoms of arthritis.
Avocado is the key to this dessert's indulgent taste and texture.
Ingredients (serves 4-6)
1 cup unsweetened almond milk
2 ripe avocados, peeled and pitted
1/3 cup plus 1 tbsp unsweetened cocoa powder
1/2 cup plus 2 tbsp pure maple syrup
2 tsp vanilla extract
1/4 tsp almond extract (optional)
1/4 tsp ground cinnamon
Pinch of sea salt
Raspberries, for garnish
Directions
Put the almond milk, avocados, cocoa, maple syrup, vanilla extract, cinnamon, and salt into your blender and puree on high for 30 to 60 seconds, until smooth and creamy. You may need to stop and scrape down the sides with a spatula.
Transfer the pudding to glasses, ramekins, or jars and chill in the fridge for at least 3 hours.
To serve, top each pudding with fresh raspberries.
Note: the pudding works best with ripe avocados that don't have any brown discoloration and is best served the day it's made.
Pumpkin Pie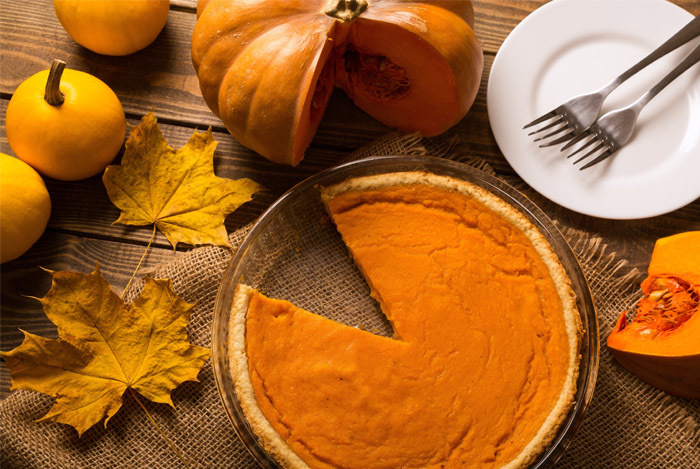 Free from grains, dairy and refined sugar, this pie from Wellness Mama is a paleo dream.
The crust is made from a mixture of nuts, coconut oil, egg and cinnamon, which is then filled with a blend of pumpkin, honey, spices and coconut milk.
Let's talk for a minute about coconut – containing both the oil and milk of the coconut drupe (it's not a nut or a fruit!), this dish is rich in healthy fats and lauric acid.
In tests, lauric acid and coconut oil have shown strong antibacterial and antifungal properties and have been seen to kill candida.
But coconut oil also kills hunger!
One study found that men who ate the most medium chain fatty acids (like those found in coconut oil) ate 256 calories less than their peers throughout the day.
Looks like you won't even have room for a second helping of this pie!
Pumpkin confers a number of health benefits too. It's one of the best-known sources of the antioxidant beta-carotene, which the body converts to vitamin A – a vital nutrient for healthy eyes.
In one study, a lack of vitamin A was linked with severely reduced night vision.
Vitamin A is also important for fighting inflammation and boosting immunity by regulating the release of immune cells in the gut.
Ingredients (makes 1 pie)
For the crust:
1 cup of almonds or pecans, finely ground in blender until flour-like
3 tbsp coconut oil (plus extra for greasing)
1 egg
1/2 tsp cinnamon powder (or to taste)
For the filling:
1 x 15 ounce can of pumpkin or 2 cups of homemade pureed pumpkin
3 eggs
1/4 cup honey
1 tbsp pumpkin pie spices
1 tsp vanilla extract
coconut milk to thin (max. 1/3 cup)
Directions
Preheat oven to 325F.
Grease pie pan with coconut oil and mix crust ingredients by hand in a medium sized bowl.
Press crust into bottom and sides of pie pan and put in the oven while making the filling.
Combine the filling ingredients (except coconut milk) and mix using an immersion blender or food processor. It should be smooth and spreadable, but not pourable. Add coconut milk if needed to thin.
After 10 to 15 minutes, remove the crust as it barely starts to brown.
Pour/smooth the filling over the crust and return to oven for about an hour or until center is set.
Top with coconut cream and some chopped pecans.
Dark Chocolate Beetroot Brownies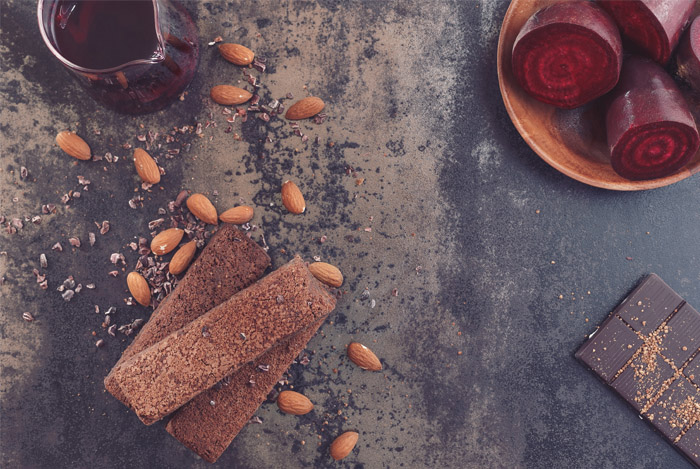 These dark chocolate beetroot brownies from Kezia at Supernaturally Healthy are rich, with a dark bittersweet flavor.
They're also hiding a particularly healthy vegetable! Yes – we've gone from hiding fruits in desserts to hiding veggies!
The vegetable in this case is beetroot.
Among its benefits, beetroot can fight inflammation in the body, thanks to its betaine content – which has been shown to reduce inflammatory markers in healthy adults.
Studies have also shown beetroot and beet juice to lower systolic blood pressure by up to 5 points, boost stamina before a workout by 16% and impede the formation of cancerous tumors in animals.
And I promise, you can't taste the beets!
Ingredients (makes 12 brownies)
5 eggs
100 g cocoa powder
4 tbsp melted coconut oil or butter
1/8 tsp salt
4-5 tbsp raw honey
100 g raw beetroot
15 dates, pitted
Directions
Preheat the oven to 390F.
In a food processor blend the beetroot, chopped dates and eggs for 1-2 minutes. Then add the other ingredients and blend until smooth.
Pour the mixture into a greased tray.
Bake for 20 minutes for gooey brownies or 25 minutes for firmer ones.
Allow to cool then cut into slices. Store in fridge or freezer.
Salted Caramel Maple Pecan Pie Bars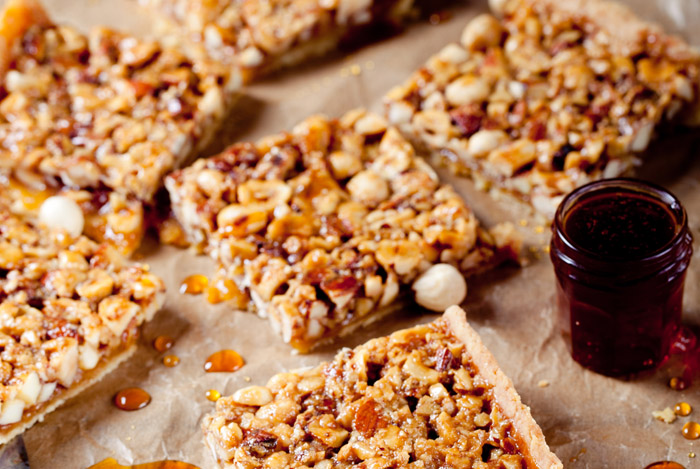 Made by 16 year old Alessandra at the Foodie Teen, these bars are seriously tasty!
With a soft buttery pecan shortbread base, a nutty mixture and salted caramel sauce, you'd never know that these bars are paleo-friendly, vegan and gluten-free!
Did you know that pecans are in the top 15 foods known for their antioxidant activity, according to the USDA?
What's more, a paper published in the Journal of Nutrition explains that pecans are a cholesterol-lowering food which can help prevent heart disease, and play a role in maintaining a healthy bodyweight.
Just one handful of pecans a day can protect the nervous system by delaying age-related motor neuron degeneration, including ALS and Lou Gehrig's disease, says other research.
These little bites are pretty rich so it's a good thing the serving sizes are so small!
Ingredients (makes 12 bite-size bars)
For the crust:
3/4 cup pecans
2 tbsp & 1 tsp coconut flour
1/4 cup arrowroot starch
pinch salt
1/4 tsp baking soda
3 tbsp coconut oil, melted
1 tsp vanilla extract
3 tbsp maple syrup
For the filling:
1 & 1/2 cups pecans, roughly chopped
2 tbsp full-fat coconut milk
1/2 tsp coarse sea salt
1 tsp vanilla extract
1/3 cup coconut oil
3/4 cup coconut palm sugar
1 tsp arrowroot starch
3 tbsp maple syrup
Directions
Preheat the oven to 325F.
Process the pecans in a food processor until very fine. Add in the remaining crust ingredients and pulse to combine. Wrap the dough in plastic wrap and refrigerate for 15-20 minutes, until firm.
Roll the dough out between two pieces of plastic wrap until it is 1/4 inch thick. Trim until it measures 5×5 inches and transfer to a baking dish. Bake for 15 minutes, until golden. Allow to cool.
To make the filling, spread the pecans on a baking tray and toast in the oven for 8 minutes, until fragrant. Remove, then place remaining ingredients in a small saucepan over medium-high heat and whisk constantly for 3-4 minutes, until the sauce is thick, smooth, and golden. Fold in the pecan chunks, then pour the mixture over the shortbread crust.
Bake for another 15 minutes, then let cool for at least half an hour before cutting up into bars. Store leftovers in an airtight container at room temperature for up to 3 days.
Chocolate Truffles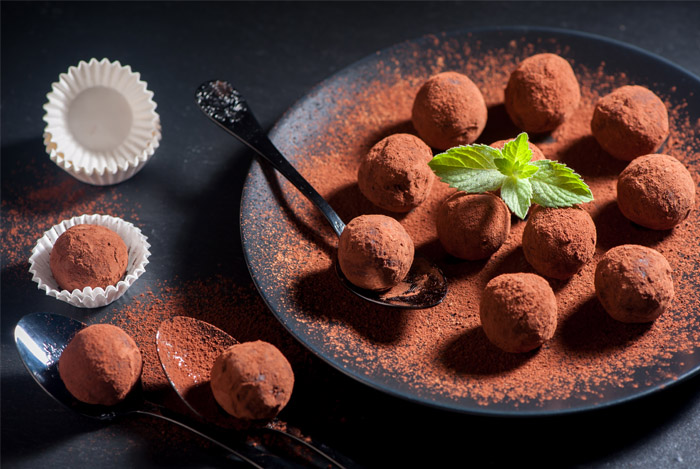 These aren't just ordinary chocolate truffles, filled with sugar, dairy and all sorts of unnatural flavorings.
These truffles from the Rawtarian are simple, raw and crammed with whole foods.
They come together in mere minutes too!
Just blitz dates, walnuts, cacao, seeds and salt and roll them into balls.
You could also garnish with goji berries for added color, taste and texture. Of course, gojis bring more than a few health benefits too. A 28 gram serving of gojis has 3 grams of protein – an impressive protein load for a fruit.
These little berries are also thought to boost immunity as a daily dose of goji berry juice has been found to increase immunological responses and general feelings of well-being in older people.
But gojis are just the icing on the cake in this dessert. The bulk of these truffles are made from walnuts and sunflower seeds.
Studies show that the nutrients in sunflower seeds have chemo-preventive compounds that halt early phases of cancer development.
One half cup also contains 53% of your daily selenium needs which supports thyroid function, and 117% of your vitamin E requirement, which has anti-inflammatory and antioxidant capabilities.
Walnuts significantly improve cholesterol levels and blood vessel health within hours of eating, according to a recent study.
Ingredients (makes 8)
1/2 cup sunflower seeds (or other seeds)
1/2 cup walnuts (or other nuts)
1/2 cup dates
1/8 tsp sea salt
4 tbsp raw cocoa powder
Directions
Process the nuts and seeds in a food processor until combined well.
Add the dates, sea salt and cocoa powder and process until the mixture becomes sticky and combined.
Roll the mixture into eight balls.
You can then roll in goji berries, coconut, cocoa powder or leave them plain.
Paleo Apple Pie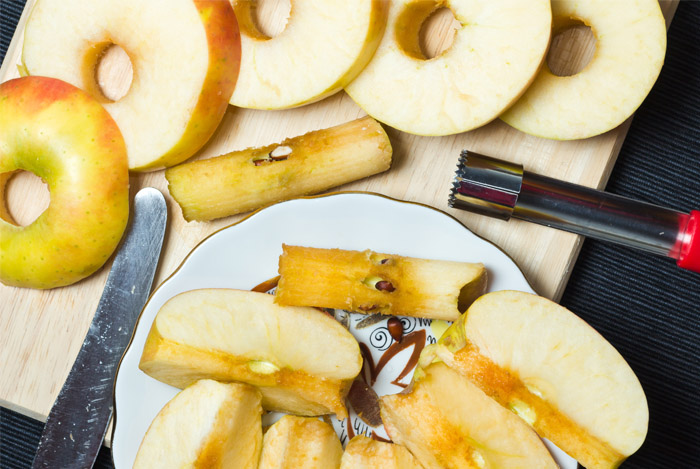 This awesome apple pie recipe from Adriana at Living Healthy with Chocolate consists of a four ingredient crust, a caramel coated apple filling and a crunchy, nutty streusel topping.
There's a little making involved but it's an impressive dish that's definitely worth it in terms of taste.
It's also chock full of goodness.
The star of the show is, of course, the humble apple – an often overlooked fruit that actually has a lot going for it.
For example, research has shown that eating apples over cookies as a snack will help you to lose weight – up to 1.3 kg over a period of 12 weeks, with no other dietary changes!
According to other studies, they may also help protect against neurodegenerative disorders, stroke, asthma and heart disease.
Ingredients (serves 10)
For the crust:
2 cups blanched almond flour
1/2 cup coconut oil, melted
2 tablespoons full fat coconut milk, cold
2 tablespoons raw honey
For the filling:
4 to 5 medium apples, peeled, cored, sliced to 1/4-inch thickness
1 tbsp lime juice
2 tbsp coconut oil, melted
1 tsp ground cinnamon
1/3 cup organic coconut palm sugar
2 tbsp water
1/2 cup coconut milk, full fat
For the caramel sauce:
2 tbsp water
1/4 cup raw coconut palm sugar
1/2 cup coconut milk
1 tsp vanilla extract
pinch salt
For the topping:
1/2 cup blanched almond flour
1 tbsp & 1.5 tsp flaxseed
2 tbsp arrowroot powder
2 tbsp organic coconut palm sugar
1 tbsp & 1.5 tsp coconut oil
1 & 1/2 tsp coconut milk, full fat
1/2 tsp vanilla extract
handful walnuts or pecans
Directions
Make the crust by combining the four ingredients with a spatula. Press into a 9-inch pie plate.
Make the sauce by bringing the water and sugar to a boil stirring constantly. Add coconut milk, vanilla extract and salt and cook for 10 minutes over medium heat, stirring constantly. When it starts to thicken remove from heat.
Make the filling by mixing together the apples, lime juice, coconut oil and cinnamon.
In a medium saucepan, stir together the coconut palm sugar and water. Heat mixture over medium heat until the sugar dissolves. Add coconut milk and simmer for 10 minutes, stirring constantly.
Remove from heat, and pour caramel sauce over the apples. Toss until fully coated. Set aside.
Make the topping by mixing all ingredients using your hands until combined.
Preheat oven to 400F. Spoon filling into crust, and top with streusel. Bake for 10 minutes then reduce heat to 325F and cover with foil. Bake for 40 minutes, or until apples are tender.
Cool pie completely on a wire rack. Serve warm or at room temperature.
Raw Oreo Cookies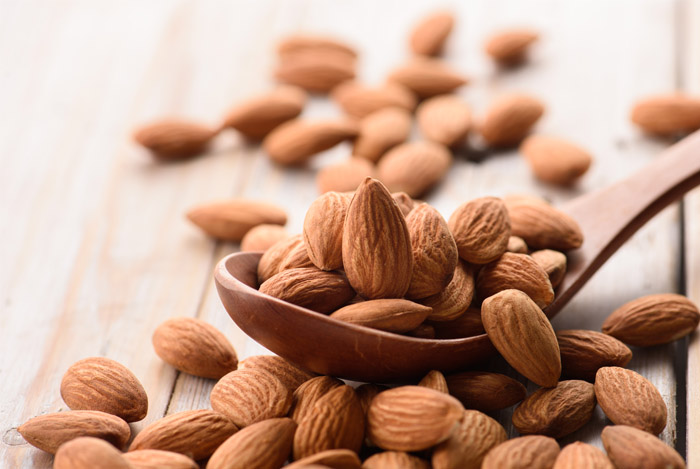 Oreos are a favorite of many but with ingredients including sugar (first on the list!), unbleached enriched flour, high fructose corn syrup, and artificial flavors, they're not the healthiest option out there.
Luckily, Davida at the Healthy Maven came up with this even more delicious healthy take on Oreos. What's more, they're raw and use only whole food ingredients – my kind of dessert!
With almonds, cashews and cocoa, you'll be getting a good dose of protein and your chocolate cravings should be well and truly kept at bay.
There are so many reasons to eat almonds (which you can read about here) – from their heart and blood benefits, to their vitamin B and E content.
They're also loaded with antioxidants, with one trial of male smokers finding that daily intake of almonds reduced oxidative stress biomarkers by up to 34%, in just four weeks!
Serve these cookies with a glass of almond milk and they'll taste even better than the real thing!
Ingredients (makes 16)
For the cookies:
1 cup raw almonds
1/4 cup flax
1/2 cup dates (soaked for 15-30 mins)
1/2 cup cacao
pinch of sea salt
For the cream:
1 cup raw cashews (soaked for 2-8 hours)
1 tbsp coconut oil, melted
1 tbsp maple syrup
1 vanilla bean or 1 tsp vanilla extract
1/4 tsp stevia (or more maple syrup, to taste)
Directions
To make the cookies, add almonds, flax, and dates to a food processor or high-speed blender. Blend until it reaches a 'rice-like' consistency.
Add in cacao and sea salt and process until ingredients come together in a ball.
Take two sheets of wax paper and spray or pat with coconut oil. Place "dough" on bottom sheet and cover with top sheet. Using a rolling pin roll out until dough is a 1/4 inch thick. Using a circular cookie cutter (or with a knife) cut out circles. Refrigerate.
For the cream, add cashews, coconut oil and maple syrup to a clean processor or blender and blend until smooth. Scrape vanilla bean seeds and stevia into mixture and process for another minute until well combined.
Remove cookies from fridge and using a knife spread cream onto one cookie and cover with another. Store in the refrigerator for up to 2 weeks.
Do any of these healthy dessert recipes appeal to you? What's your go-to sweet treat?
The post 7 Mouthwatering Healthy Dessert Recipes appeared first on Nutrition Secrets.
http://www.nutritionsecrets.com/mouthwatering-healthy-dessert-recipes/