Everyone has a friend or family member who's obsessed with potatoes. Maybe Mom always makes mashed potatoes on Sunday, or maybe your significant other can't pass up fries for a side salad.
Or maybe it's you. After all, potatoes are a warm, hearty, comforting food, and a veggie no less.
But I think it's time to step up your potato game; for you and your loved ones. Sweet potatoes are a seamless swap that's healthier for you. They're packed with over 13 nutritional benefits and taste way better than white potatoes.
Healthy mashed potatoes? Absolutely!
Today I'm going to share 13 of my favorite mouthwatering sweet potato recipes. And you won't find a single casserole with those sugary mini marshmallows, either!
Sweet Potato, Kale & Shrimp Skillet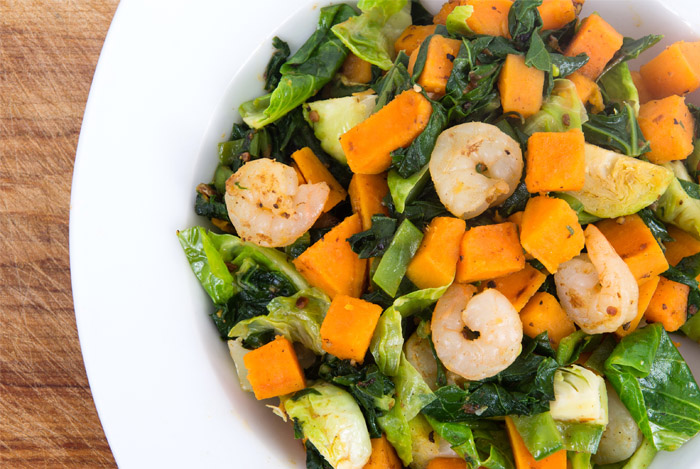 I love this recipe because it combines sweet potato and superfood kale for an amazing heart-healthy punch.
Sweet potato has double the amount of potassium as a banana, for real. Potassium helps keep our blood pressure down, regulates our heartbeats, and even reduces swelling.
"Kale is actually a great source of alpha-linoleic acid (ALA), the omega-3 fatty acid that's essential for brain health, reduces risk of type 2 diabetes and boosts heart health as well".
Shrimp is perfect here because it's low-calorie, high protein, and high in vitamins and minerals.
Here's what you'll need:
2 tbsp olive oil
1/2 cup onion, diced
Red pepper flakes to taste
2 garlic cloves, minced
2 cups sweet potatoes, diced
2 cups fresh shrimp
3 cups trimmed and coarsely chopped kale leaves
Ground black pepper
Salt
Here's what you'll do:
Add the olive oil to a saucepan and heat over medium heat.
Add onions and red pepper flakes. Cook until onions are soft and golden.
Add garlic and cook for about 30 seconds.
Add sweet potato and cook until soft, about 10–15 minutes. If you need, add a few tablespoons of water to help steam the sweet potatoes.
Add shrimp and cook for 2–3 minutes, or until they turn pink.
Turn the heat to low and add kale, stirring until wilted.
Season to taste with salt and pepper.
Check out more delicious kale recipes here!
Honey-Lime Quinoa Stuffed Sweet Potatoes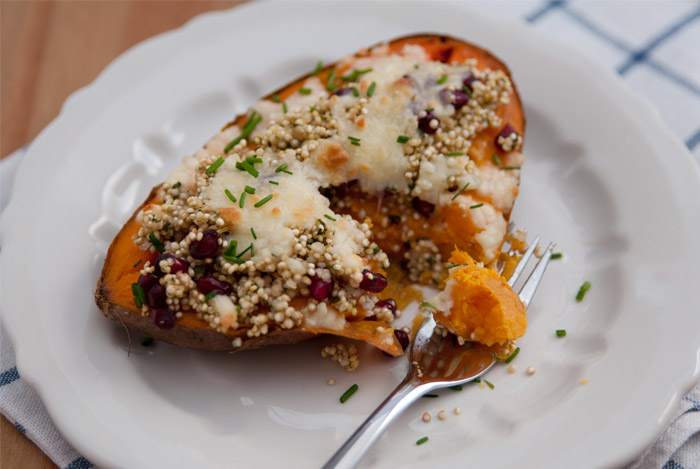 This recipe is packed with healthy ingredients; fiber and protein-rich black beans, good, energizing carbs from the quinoa, and 438% of your vitamin A intake, thanks to the sweet potatoes.
You can omit the cheese to keep this vegan friendly, or add it for a surprisingly healthy kick.
You'll love this bowl for dinner and will be so happy eating it as a leftover for lunch the next day, you may need to make a bigger batch.
Ingredients:
4 medium sweet potatoes, scrubbed and rinsed, pierced several times with a fork
1 cup uncooked quinoa
1 3/4 cup low-sodium chicken broth or vegetable broth
1 Tbsp olive oil
1 cup chopped yellow onion
1 clove garlic
1 (15 oz) can black beans, drained and rinsed
1 1/2 cups grilled or frozen corn
1/2 tsp ground cumin
1/2 tsp ground paprika
1/4 tsp ground coriander
1/8 tsp cayenne pepper
3 1/2 Tbsp fresh lime juice
3 1/2 Tbsp honey, or vegan sweetener
Salt and freshly ground black pepper
3 Tbsp chopped cilantro, plus more for garnish
2 oz (1/2 cup) shredded Monterey Jack cheese, optional
Sour cream for serving, optional
Directions:
Preheat oven to 400 degrees. Place sweet potatoes on a baking sheet and bake in preheated oven until tender, about 40 minutes.
Meanwhile, in a medium saucepan, bring quinoa and broth to a boil, then reduce heat to low; cover and simmer 15 minutes, or until fluffy.
Heat oil in a skillet over medium-high heat. Once hot, add onion and saute until tender, about 4 minutes, adding in garlic during last 30 seconds of sauteing. Add onion mixture to cooked quinoa, along with black beans, corn, cumin, paprika, coriander, cayenne, lime juice, honey, and 3 Tbsp chopped cilantro. Toss mixture. Season with salt and pepper to taste.
Cut cooked sweet potatoes in half and scoop out some of the sweet potato flesh to create a bowl shape, while leaving about 1/3 to 1/2-inch of sweet potato intact (reserve scooped out potato in refrigerator for another use). Fill sweet potatoes with quinoa mixture, then sprinkle tops evenly with cheese. Transfer to oven and broil until cheese has melted. Serve warm garnished with cilantro and sour cream if desired.
Sweet Potato, Spinach, & Tomato Hash with a Fried Egg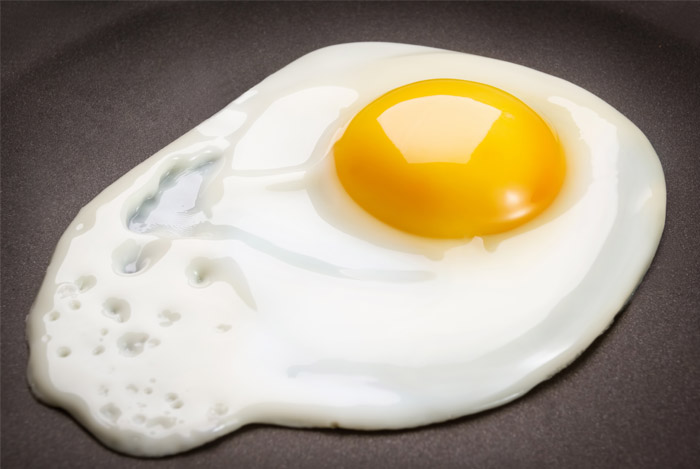 You guys' know I'm crazy about eggs; I eat them for breakfast, lunch, and dinner.
When I think of eggs and hash, I picture chunks of white potatoes, peppers, and onions. But I wanted to upgrade my hash with healthier ingredients.
Cooked sweet potatoes have 6.6 g of fiber per cup. And spinach has twice the amount of iron as other leafy greens.
All you need for four servings is:
2 medium sweet potatoes, peeled and finely diced
1–2 small to medium tomatoes
2–3 cups fresh spinach
2 shallots, finely diced
4 eggs
1/2 teaspoon cumin
1/2 teaspoon garlic
1 teaspoon paprika
freshly ground black pepper and kosher salt, to taste
4 tablespoons extra virgin olive oil
Instructions:
Heat half of the olive oil in a large skillet over medium heat. When it's hot, add the sweet potatoes, shallot, and spices. Season well with salt and pepper.
Cook and stir occasionally, about 10 minutes. Add tomatoes and spinach and cook until sweet potatoes are tender, about 5–8 minutes longer. Taste and season if needed.
When the hash is almost done, heat 2 tablespoons of olive oil in a large nonstick skillet over medium-low heat. Fry the four eggs. Season with salt and pepper.
Place an egg on top of each plate of hash and enjoy!
Breakfast Stuffed Sweet Potatoes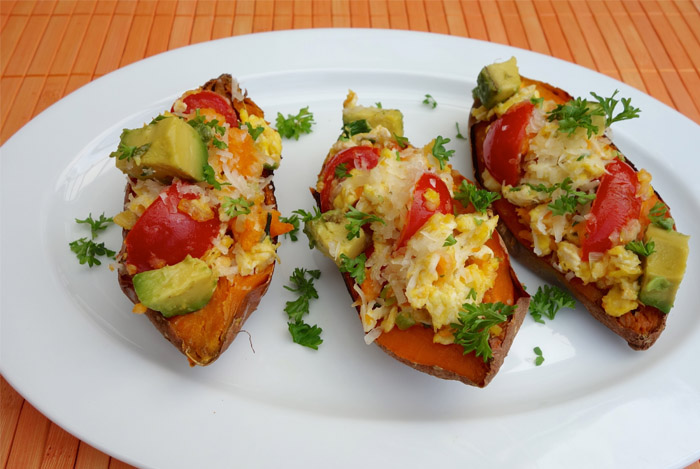 We're so used to seeing unhealthy loaded potato skins at restaurants that we sometimes forget how healthy potato skins actually are.
A medium-sized baked sweet potato with skin on will only set you back about 100 calories. Plus, it's ultra filling and full of fiber so you'll be sure to stay satisfied for awhile.
Instead of making a breakfast bagel, try these stuffed sweet potatoes for breakfast. You'll have a nutritious vessel for those creamy, delightful eggs.
Ingredients for two servings:
1 sweet potato
Handful of veggies of your choice (broccoli, peppers, mushrooms, leafy greens all go well)
4 eggs, scrambled
Bit of butter or olive oil to cook eggs
Seasonings of choice
Here's what you'll do:
Pierce your sweet potato with a fork, wrap it in a damp paper towel, and cook for 5 minutes in the microwave. Flip over halfway for even cooking. Let cool when done.
Pour the eggs into a skillet with butter or olive oil. Add a handful of veggies and seasoning and cook until eggs are done.
Cut the sweet potato in half lengthwise, remove half of the filling from each half, save for later.
Fill each half of the potato with the scrambled eggs and enjoy!
Spiced Sweet Potato Hummus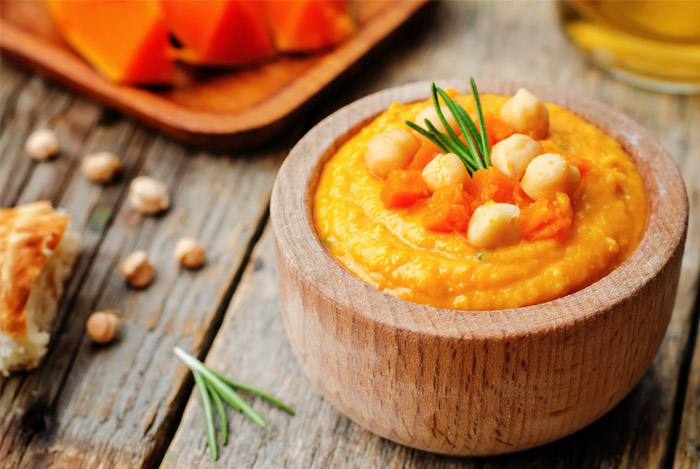 You finally managed to take a five minute break from your hectic workday. Time for a snack!
If you're a little bored with your standard hummus, why not try a recipe that adds an excellent source of calming magnesium?
That's right, sweet potatoes contain "the original chill pill". This hummus may be so blissful you'll have a hard time getting back to work.
Here's what you'll need:
1 sweet potato, peeled, chopped, and boiled until fork tender
1/2 (14.5 ounce) can garbanzo beans, drained
3 tablespoons tahini
2 tablespoons extra virgin olive oil
1 garlic clove
1/2 lemon, juiced
1 tablespoon cumin
1 teaspoon smoked paprika
1/4 teaspoon cinnamon
1/8 teaspoon cayenne pepper
dash nutmeg
salt and pepper to taste
extra virgin olive oil for drizzling
Just place all of the ingredients into a food processor and blend until smooth. Adjust seasonings to your taste and stir again. Top with a small drizzle of olive oil and a sprinkle of cumin. Voila!
Black Bean Sweet Potato Chili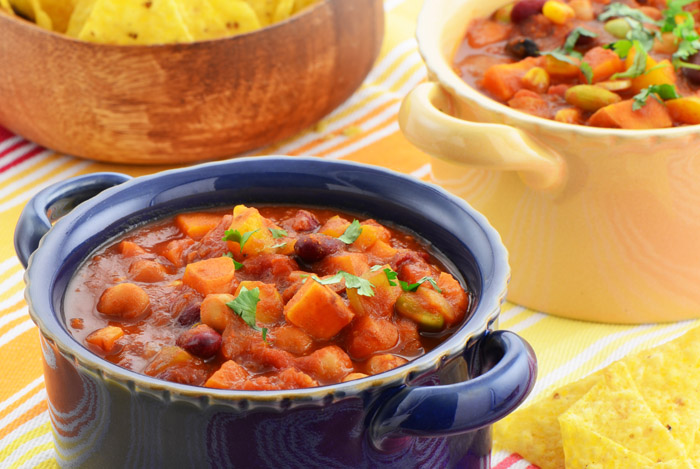 There's nothing as good as a big bowl of chili when the weather gets cold.
Even though a traditional chili has lots of meat, you won't even miss it with this vegetarian sweet potato chili recipe. This is a perfect dinner for Meatless Mondays.
Here's what you need:
1 tablespoon plus 2 teaspoons extra-virgin olive oil
1 medium-large sweet potato, peeled and diced
1 large red onion, diced
4 cloves garlic, minced
2 tablespoons chili powder
1/2 teaspoon ground chipotle pepper
1/2 teaspoon ground cumin
1/4 teaspoon salt
3 1/2 cups vegetable stock
1 15-ounce cans black beans, rinsed
1 14.5-ounce can diced tomatoes
1/2 cup dried quinoa
4 teaspoons lime juice
serving suggestions: avocado, cilantro, cheese
Here's how to make it:
Heat a large heavy bottom pot with oil over medium-high heat.
Add the sweet potato and onion and cook for about 5 minutes, until the onion is softened.
Add the garlic, chili powder, chipotle, cumin, and salt; stir to combine.
Add the stock, tomatoes, black beans, and quinoa and bring the mixture to a boil. Stir everything to combine.
Cover the pot and reduce the heat to maintain a gentle simmer.
Cook for 15–25 minutes until the quinoa is fully cooked, the sweet potatoes are soft, and the entire mixture is slightly thick like a chili.
Add the lime juice and remove the pot from the heat. Season with salt as needed.
Garnish with avocado, cilantro, or cheese before serving.
One Pot Tandoori Quinoa with Sweet Potato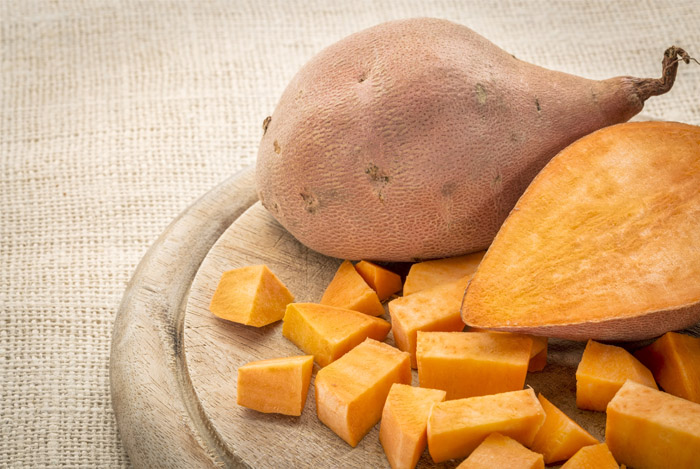 Keeping with one pot wonder meals, this Tandoori quinoa dish is sure to satisfy your appetite with its warm spicy flavors, and spicy food is so good for you!
This recipe also calls for ginger, which is one of my favorite healthy ingredients I try to use as often as I can.
Here's what you'll need:
1 tablespoon olive oil
1 cup finely diced sweet potatoes
1/2 red onion, finely chopped
2 cloves garlic, minced
1 jalapeno or 2 Indian green chiles, seeded and minced
1 tablespoon minced fresh ginger
2 tablespoon garam masala or curry powder
1/4 tsp. cayenne pepper (optional)
1 cup quinoa, rinsed
1 and 1/4 cups vegetable broth
1 15 oz. can chickpeas
1 14 oz. can diced tomatoes
1 tsp. coconut sugar or brown sugar
salt and pepper, to taste
fresh lime juice (lemon also works), for serving
chopped fresh cilantro, for serving
Here's how to make it:
In a large skillet, heat the olive oil over medium-high heat. Add the sweet potatoes and cook, stirring frequently, for about 6–8 minutes, or until softened significantly.
Add the onion and cook for another 2–3 minutes, stirring frequently, until softened. Add the garlic, chilies, and ginger, and cook for another minute until fragrant. Finally, stir in the garam masala and (optional) cayenne pepper and cook for 30 seconds.
Add the quinoa, vegetable broth, chickpeas, tomatoes, and sugar, and combine. Bring the mixture to a boil, then reduce to a simmer and cover, stirring occasionally.
Cook until the quinoa and sweet potatoes are cooked through, about 20 minutes. If there seems to be too much liquid, simmer uncovered for a few minutes to evaporate the excess. If the liquid runs out before the quinoa is done, add more water or broth and continue simmering. Add salt, pepper, and additional garam masala and cayenne to taste.
Serve with a squeeze of fresh lime or lemon juice and a generous sprinkle of chopped cilantro.
Baked Garlic Sweet Potato Fries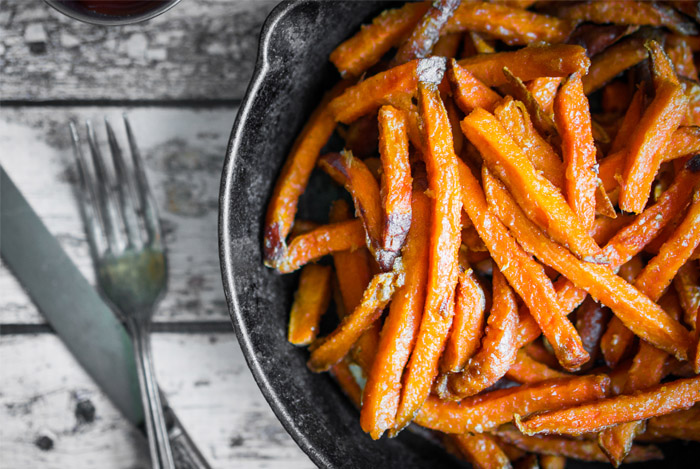 Ok, there had to be one sweet potato fries recipe on this list – I couldn't resist!
I love this recipe for sweet potatoes because it brings savory flavor to a veggie that's always pigeonholed as sweet. I guess it's in the name, right?
Add these fries to your next game night or weekend gathering to sneak a bit of health in your snacks. Did you know that one cup of baked sweet potato has 65% of your vitamin C for the day?
Ingredients:
4 medium sweet potatoes, peeled and cut into 1/4-inch matchsticks
2 tablespoons olive oil
Kosher salt and freshly ground black pepper, to taste
5 cloves garlic, pressed
1/2 cup grated Parmesan
2 tablespoons chopped parsley leaves, for garnish
Instructions:
Preheat oven to 400 degrees F. Lightly oil a baking sheet or coat with nonstick spray.
Place potatoes in a single layer onto the prepared baking sheet. Add olive oil and gently toss to combine; season with salt and pepper to taste.
Bake for 35–40 minutes, or until golden and crisp, tossing occasionally.
When out of the oven, combine sweet potatoes with garlic and Parmesan. Serve immediately, garnished with parsley, if desired.
Sweet Potato & Cauliflower Mash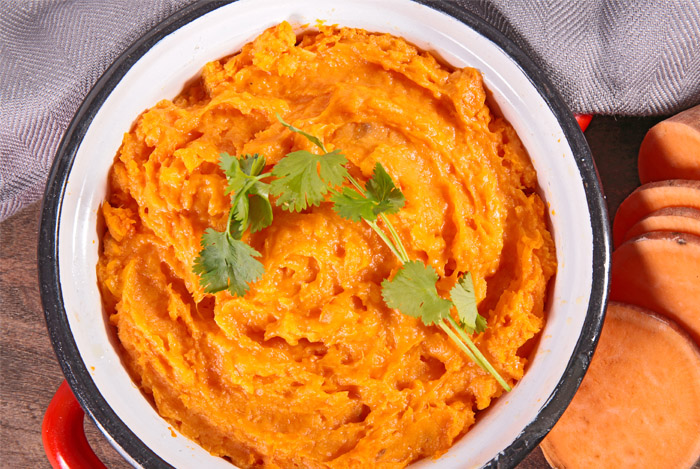 Want to talk about a healthified mashed potato recipe? Look no further than this recipe.
Normal mashed potatoes can have a 1:1 ratio of potatoes to butter, but not this one!
First, we start off with antioxidant-rich sweet potatoes, then we add fiber and vitamins by mixing it with equally creamy cauliflower. Then we substitute butter for Greek yogurt.
Greek yogurt is one of the best foods you can eat; it's packed with lean protein and helpful probiotics.
Here's what to grab to make 4–6 servings:
2 pounds sweet potatoes
1 pound cauliflower florets
3 tablespoons milk of choice
1/4 cup plain Greek yogurt
1/2 teaspoon garlic powder
Salt and pepper to taste
Fresh chopped parsley for garnish
Here's how you'll put it together:
Peel and cut sweet potato into 1 1/2-inch chunks.
In a large pot with a steam basket, steam sweet potato and cauliflower with 1 inch of water in bottom of pot. Vegetables will be ready in about 10–12 minutes, or when fork tender.
Place in large bowl and mash the potato and cauliflower with the milk.
Stir in the Greek yogurt, garlic powder, salt, and pepper. If too thick, add milk 1 tablespoons at a time, until desired consistency is achieved. Garnish with chopped fresh parsley.
Sweet Potato & Lentil Shepherd's Pie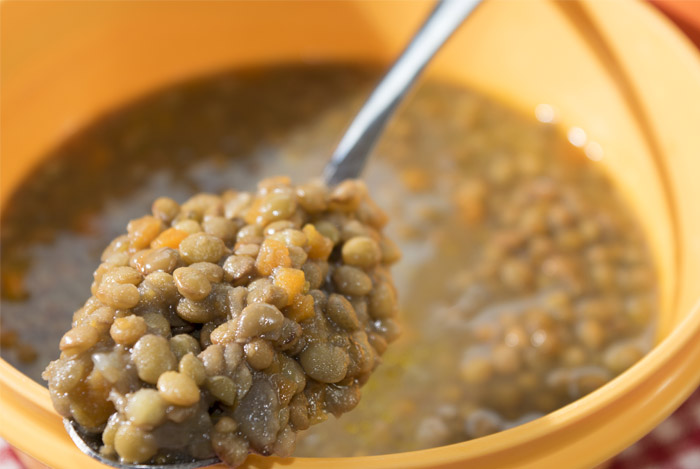 Traditional shepherd's pie is ground beef and veggies topped with a whipped topping of mashed potatoes. And it's delicious, if you're a meat and potatoes kind of person.
But if you're looking for a healthier version of this comfort food staple, this recipe for lentils and sweet potato may be just what you need.
Just one cup of cooked lentils delivers 18 g of protein, plus 16 g of insoluble fiber. They have virtually zero cholesterol and a negligible amount of fat (about 1 g). They're also much cheaper than meat, which helps if you're eating healthy on a budget.
Here's what you need for a six serving pie:
4 medium sweet potatoes
1/2 cup diced onions
1/2 cup diced celery
1/2 cup diced carrots
4 1/2 cups prepared lentils
2 15 oz cans diced tomatoes
2 tablespoons soy sauce
1 tablespoon fresh basil + more for garnish (1/2 tablespoon dried)
1/2 cup chopped spinach
2+ tablespoons non-dairy milk
Sea salt
Instructions:
Preheat oven to 350º F.
Peel and chop sweet potatoes into small chunks. Place them in a pot of water and let them boil for at least 15–20 minutes, depending on size.
Chop carrots, onion, and celery into small chunks. Add this to a large skillet over medium heat with a tablespoon of water and allow them to soften.
Once the veggies are soft, add the prepared lentils to the pan. Allow these to cook for several minutes with the veggies.
Add whole cans of diced tomatoes (don't drain them!), basil, spinach, and soy sauce. Let this filling simmer for 10–15 minutes for the flavors to mingle.
When the sweet potatoes are soft all the way through, remove them from the heat and drain the water. Mash with a little salt and a splash of non-dairy milk until the consistency is similar to mashed potatoes.
Add the lentil filling to a 9×13 pan and top with a layer of sweet potatoes. Bake in the oven for about 20 minutes until the topping becomes slightly browned. Allow to cool before serving.
Roasted Sweet Potato Salad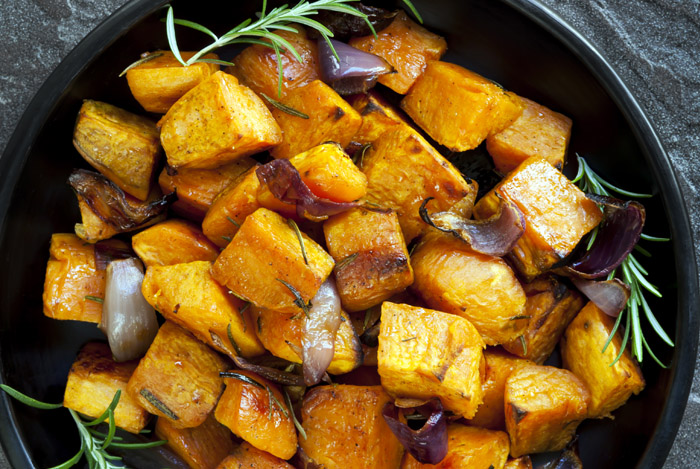 If you're sick of mayo-smothered potato salad, you are going to be smitten with this recipe.
We replace the white potatoes with sweet potatoes and add corn, black beans, and red peppers before tossing with a refreshing dressing that's mayo-free.
This recipe is heart healthy, fiber-packed, and bursting with flavor.
You'll need:
1 1/4 pounds sweet potatoes (about 2 jumbo), washed and cut into 1-inch pieces
4 tablespoons olive oil
1/2 teaspoon salt
1/2 teaspoon pepper
1 15-ounce can black beans, drained and rinsed
3 green onions, trimmed and thinly sliced (use the white and green)
1 medium red bell pepper, seeded and diced small
1 cup corn
1/2 cup cilantro leaves, minced (about half of 1 bunch)
For the dressing:
2 tablespoons honey
2 tablespoons Dijon mustard
2 tablespoons lemon juice (lime juice may be substituted)
2 tablespoons olive oil
1/2 teaspoon salt, or to taste
1/2 teaspoon pepper, or to taste
pinch cayenne pepper, optional and to taste
Directions:
Preheat oven to 400F. Spray a baking sheet with cooking spray and add the sweet potatoes in an even, flat layer. Drizzle with 2 tablespoons olive oil, season with salt and pepper, and bake for about 45 minutes, or until fork-tender and done. Flip potatoes halfway through baking to ensure even cooking. Baking time will vary so start to check on them at 30 minutes for doneness.
To a large bowl, add black beans, green onions, red pepper, corn, cilantro; set aside.
To a large measuring cup or medium bowl, add honey, Dijon mustard, lemon juice, olive oil, salt and pepper to taste, optional cayenne pepper, and whisk to combine; set aside.
After potatoes are cooked, add them to the bowl with the beans and vegetables. Add the dressing and toss to combine. Potato salad can be served warm, at room temp, or chilled and will keep airtight in the fridge for up to 5 days.
Loaded Paleo Nachos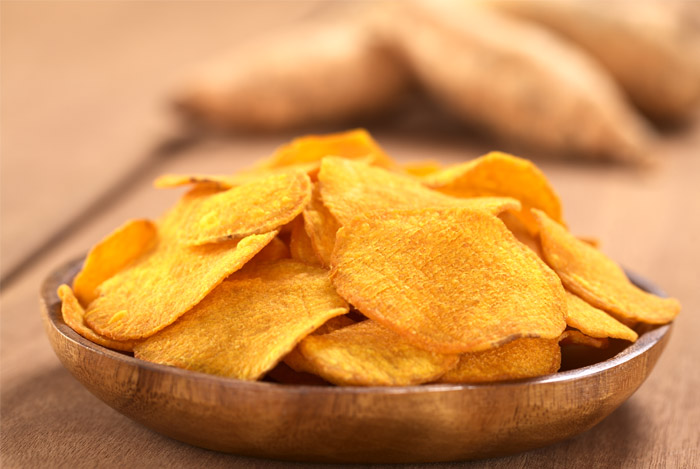 You don't have to follow a paleo diet in order to love these nachos. Instead of using fried tortillas for the nachos – which are salty, processed, and less nutritious – this recipe calls for thinly sliced baked sweet potato chips.
Here's what you'll need:
1–2 large sweet potatoes
2 organic chicken breasts
1 tsp extra-virgin olive oil
1/4 tsp chili powder
1/4 tsp cayenne pepper
1/4 tsp garlic powder
1/4 tsp onion powder
guacamole (psst recipe here!)
favorite salsa
To make the sweet potato chips:
Preheat oven to 375 and line a baking sheet with foil. Spray the sheet with nonstick oil.
Slice sweet potatoes thin, using a mandolin.
Place sweet potatoes on the baking sheet and bake until crispy (time depends on how thick you sliced your potato chips).
Remove, let cool, and place on plate.
To make the chicken:
Cut chicken into bite size pieces. Combine spices and coat chicken with mix.
In a skillet, heat oil, add chicken, and cook until done.
Assembly time!
Place sweet potato chips on plate, top with chicken, salsa, and guacamole. Add other desired toppings (jalapenos, scallions, cilantro). I like adding black beans for some extra protein!
Healthier Sweet Potato Casserole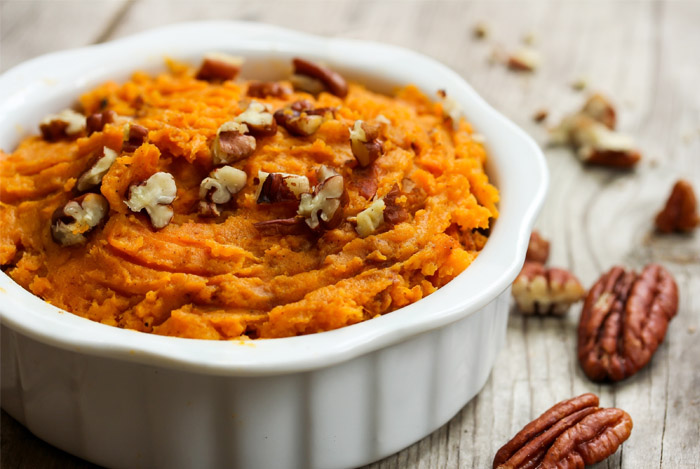 I thought I'd finish on a sweet (and comforting) note with a sweet potato casserole. This was always one of my favorites at Thanksgiving, but who says you can only eat this side dish once a year?
Maybe you should only eat that mini-marshmallow covered one once a year (or never!), but this recipe is a version to whip up all year long. And trust me, I do.
PS: It's a great dish to bring to potlucks because it makes close to 12 servings! You won't mind the leftovers…
Ingredients:
4 large sweet potatoes
1/2 cup canned coconut milk
1 Tbsp. coconut oil
1–2 Tbsp. maple syrup
1 tsp cinnamon
1/2 tsp nutmeg
juice of half an orange
Pecan topping
3/4 cup chopped raw pecans
1 tsp cinnamon
1 Tbsp maple syrup
1 tsp melted coconut oil
Directions:
Bring a large pot of water to a boil and preheat oven to 350 degrees F. While water comes to a boil, peel and dice sweet potatoes into large chunks.
Add sweet potato chunks to water. Boil until fork tender, about 10 minutes.
Drain potatoes, dump them back in the large pot, and add all the other ingredients. Using a hand mixer, blend until potatoes reach desired consistency and flavor. You may like to add a little more coconut milk, spices, or syrup based on your taste.
In a small bowl, combine all topping ingredients until pecans are well coated.
Pour sweet potatoes into an oven safe dish and top with pecans.
Bake in preheated oven until topping is browned, about 15 minutes. Serve warm and melt with happiness.
I hope these recipes inspire you to create loads of dishes highlighting the super nutritious sweet potato.
Remember, you can always leave your sweet potato skins on to maximize the health potential in your spuds.
Are you going to try any of these recipes? Have a sweet potato recipe I'd love? Share your thoughts with me in the comments!
The post 13 Mouthwatering Sweet Potato Recipes You Can Make in Under 30 Minutes appeared first on Nutrition Secrets.
http://www.nutritionsecrets.com/mouthwatering-sweet-potato-recipes/