Quinoa can be a tough sell for a lot of people. For one, it's almost impossible to pronounce the first time you read it.
But whether you haven't had it before, or you're a big fan already, the biggest issue is probably finding out how you should eat it!
And you should be eating it. Quinoa is well-known for its nutrient richness and awesome health benefits. Don't be picky, take the risk and try it!
So I figured, what you really need is some great recipe ideas for creating awesome quinoa dishes, and how to go about preparing it.
Here are 8 delicious quinoa recipes that you'll love!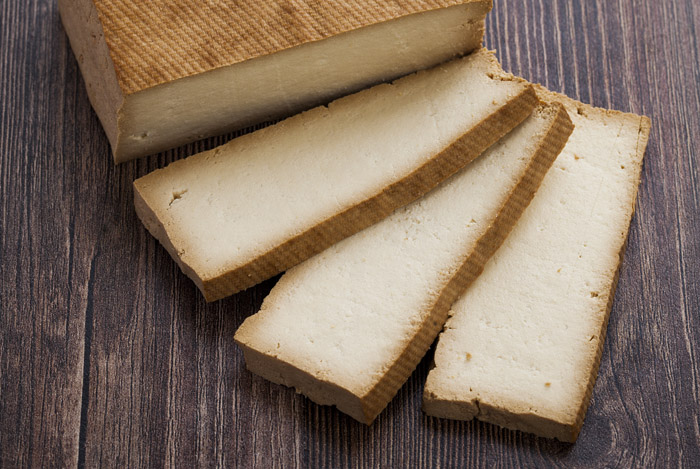 To me, tofu should be a lot more popular than it is. It's full of antioxidants, flavonoids, phytosterols, and proteins, which have been shown in tofu to be linked to decrease risks of cancer, better cardiovascular health, and other potential health benefits.
Tofu is one of those foods that only a minority of people enjoy regularly – typically more discerning eaters like vegetarians and vegans.
So to begin our list, this quinoa and smoked tofu salad recipe will provide you with the benefits of both these awesome foods.
Ingredients
2 cups water
3/4 teaspoon salt , divided
1 cup quinoa, rinsed well
1/4 cup lemon juice
3 tablespoons extra-virgin olive oil
2 small cloves garlic, minced
1/4 teaspoon freshly ground pepper
1 x 6 ounce package baked smoked tofu, diced
1 small yellow bell pepper, diced
1 cup grape tomatoes, halved
1 cup diced cucumber
1/2 cup chopped fresh parsley
1/2 cup chopped fresh mint
Directions
Bring water and 1/2 teaspoon salt to a boil in a medium saucepan. Add quinoa and return to a boil. Reduce to a simmer, cover and cook until the water has been absorbed, 15 to 20 minutes. Spread the quinoa on a baking sheet to cool for 10 minutes.
Meanwhile, whisk lemon juice, oil, garlic, the remaining 1/4 teaspoon salt and pepper in a large bowl. Add the cooled quinoa, tofu, bell pepper, tomatoes, cucumber, parsley and mint; toss well to combine.
Quinoa is a delicately flavored, protein-rich grain. Rinsing removes any residue of saponin, quinoa's natural, bitter protective covering. Find it in natural-foods stores and the natural-foods sections of many supermarkets.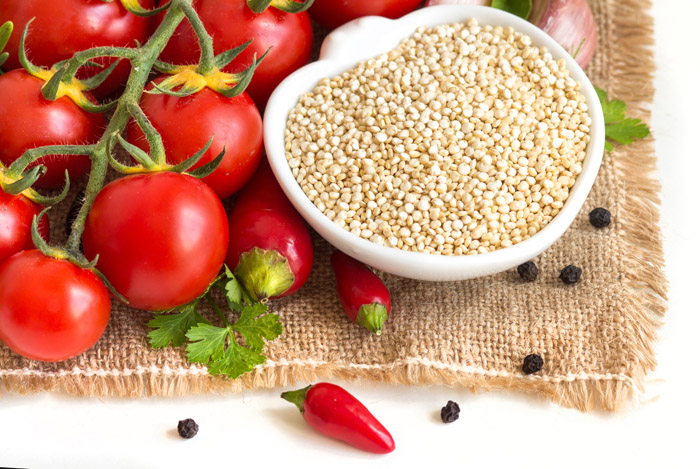 Chili is one of those great foods that vegetarians thought they were giving up when they said goodbye to meat. As it turns out, there are other ways of preparing chili that can produce similar results, without the meat, and full of delicious quinoa.
Add your own toppings to this one, but watch out: it's going to be spicy!
Ingredients
1/2 cup quinoa, rinsed
1 cup water
1 tablespoon olive oil
1 small onion, chopped
3 cloves garlic, minced
1 jalapeno pepper, diced
1 large carrot, peeled and chopped
2 celery stalks, chopped
1 green bell pepper, chopped
1 red bell pepper, chopped
1 medium zucchini, chopped
2 (15 ounce) cans black beans, drained and rinsed
1 (15 ounce) can red kidney beans, drained and rinsed
3 (15 ounce) cans diced tomatoes
1 (15 ounce) can tomato sauce
2-3 tablespoons chili powder, depending on your taste
1 tablespoon ground cumin
Salt and black pepper, to taste
Directions
In a medium sauce pan, combine the quinoa and water. Cook over medium heat until water is absorbed, about 15 minutes. Set aside.
In a large pot, heat the olive oil over high heat. Add the onion and cook until tender, about 5 minutes. Stir in garlic, jalapeño, carrot, celery, peppers, and zucchini. Cook until vegetables are tender, about 10 minutes.
Add the black beans, kidney beans, tomatoes, and tomato sauce. Stir in the cooked quinoa. Season with chili powder, cumin, salt, and black pepper. Simmer chili on low for about 30 minutes. Serve warm.
Garnish the chili with green onions, avocado slices, cheese, sour cream/Greek yogurt, chips, crackers.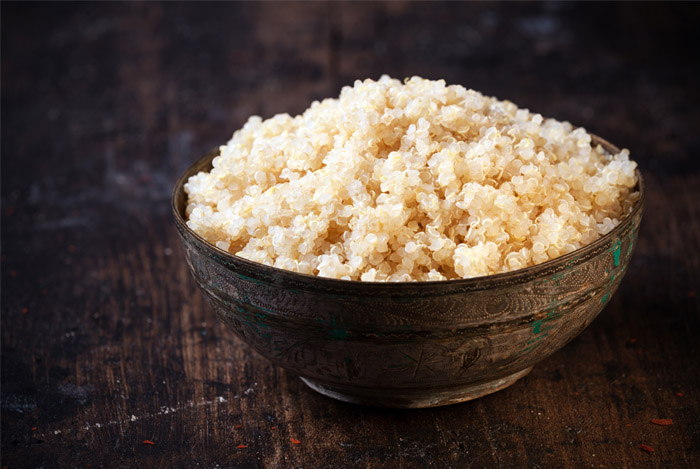 Tabbouleh is an interesting Arabian vegetarian dish, sort of like a salad, which has only recently become popular in Western cultures.
This recipe is going to thoroughly rock your taste buds with new flavors. Enjoy!
Ingredients
1 c. quinoa, rinsed
1 1/4 c. water
1/2 tsp. salt
1 red bell pepper
2 small zucchini, cut into 1/2″ dice
1/2 – 1 c. chopped fresh flat-leaf parsley (to taste)
1/2 c. chopped fresh mint
2 scallions, chopped
1/2 c. chopped (pitted) kalamata olives
1/2 c. chopped toasted pistachios (or pine nuts)
Dressing
1/2 tsp. each cumin & coriander seeds
2 Tbsp. fresh lemon juice
grated zest of one lemon
1/2 c. extra-virgin olive oil
1 tsp. toasted sesame oil
1 clove garlic, minced
1/2 tsp. salt
Directions
Add quinoa, salt, and water to a small saucepan and bring to a boil over medium-high heat. Turn heat to low, cover, and simmer quinoa for 10 minutes. Keep covered, remove from heat, and let sit for 5 minutes. Transfer quinoa to a medium bowl to cool, fluffing with a fork a few times as it comes to room temperature.
Meanwhile, over a gas flame or under a broiler, scorch the bell pepper until blackened on all sides. Place in a small paper bag for 20 minutes. When cool, slide charred skin off, remove and discard seeds and stem, and cut flesh into 1/4″ dice.
While the quinoa and bell pepper cool, toast the cumin and coriander seeds in a dry skillet over medium-high heat until fragrant (watch carefully so they don't burn). Grind in a coffee grinder or mortar & pestle and add to a small bowl. Whisk in lemon juice, lemon zest, olive oil, sesame oil, garlic, and salt. Set aside.
When quinoa is cool, add the bell pepper, zucchini, parsley, mint, scallions, olives, and pistachios. Whisk dressing and pour over salad, tossing well to combine. Season with freshly ground black pepper (and a bit more salt, if needed). Serve with Greek yogurt. Can be made one day ahead; however, reserve pistachios until just before serving to preserve crunch.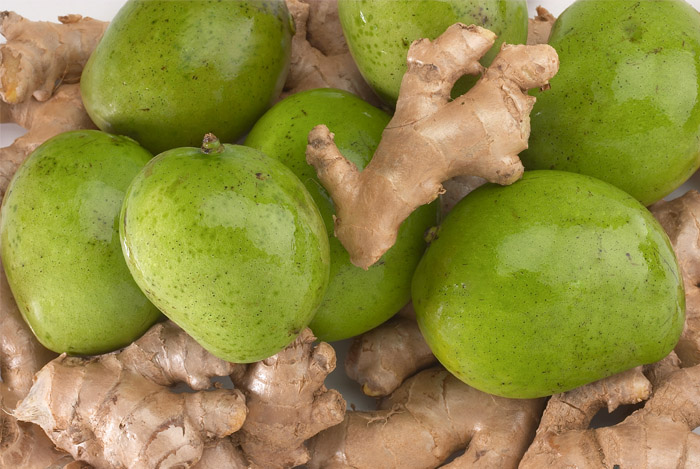 Sweet, spicy, and sour is the way this recipe rolls. And whatever ginger is, I still can't quite place it on the flavor spectrum when I eat it.
The mix of quinoa with cashews makes for an awesome texture variety, and the chilies round out the whole flavor experience. Enjoy!
Ingredients
1 cup quinoa
1 cup snap peas, stem removed
1/2 cup cashews
4 to 5 scallions or spring onions, rinsed and trimmed
2 mangoes, peeled
1-2 serrano chilies
an inch-long knob of ginger, peeled
kosher salt and pepper to taste
1/3 cup extra-virgin olive oil
1 to 2 limes, juiced
Directions
Bring a large pot of water to a boil. Meanwhile, place quinoa in a fine-meshed sieve and rinse under cold water. When the water comes to a boil, add the quinoa and simmer for 9 minutes. Drain in a fine-meshed sieve and run under cold water until cool. Set aside to dry.
Meanwhile, prepare the remaining ingredients: Slice the snap peas on a bias and set aside. Roughly chop the cashews. Slice the scallions (white and light green portions) thinly. Slice down around the pit of the mango to remove, then dice the flesh. Remove the seeds from the chilies, then finely dice. Grate the ginger on a box grater or finely dice with a knife or purée in a food processor. You need about a tablespoon of minced ginger flesh/juice.
Place the drained and dried quinoa into a large mixing bowl. Season all over with salt (I used one teaspoon kosher salt to start) and pepper to taste. Add the snap peas, cashews, scallions, chilies, mangoes (or not if you have time to let the salad marinate in the fridge for a bit), minced ginger, olive oil and about two tablespoons of lime juice to the bowl.
Toss and taste. Adjust seasoning as necessary. I added two more tablespoons of lime juice and a pinch more salt. Let salad marinate in the fridge for an hour. Fold in mangoes just before serving.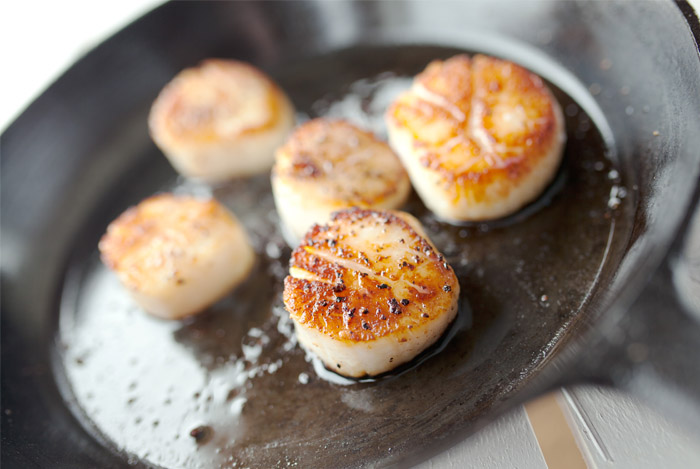 Talk about texture, this quinoa salad gets a great mix of it between the snow peas, the bell peppers, the scallions and scallops galore.
If you'd like, add shrimp or chicken (or both) as substitutes for the scallops.
Ingredients
12 ounces dry sea scallops, cut into 1/2-inch pieces, or dry bay scallops
4 teaspoons reduced-sodium tamari, or soy sauce, divided
4 teaspoons canola oil, divided
1 1/2 cups quinoa, rinsed well
2 teaspoons grated or minced garlic
3 cups water
1 teaspoon salt
1 cup trimmed and diagonally sliced snow peas
1/3 cup rice vinegar
1 teaspoon toasted sesame oil
1 cup thinly sliced scallions
1/3 cup finely diced red bell pepper
1/4 cup finely chopped fresh cilantro, for garnish
Directions
Toss scallops with 2 teaspoons tamari in a medium bowl. Set aside.
Place a large, high-sided skillet with a tight-fitting lid over medium heat. Add 1 tablespoon canola oil and quinoa. Cook, stirring constantly, until the quinoa begins to color, 6 to 8 minutes. Add garlic and cook, stirring, until fragrant, about 1 minute more. Add water and salt and bring to a boil. Stir once, cover and cook over medium heat until the water is absorbed, about 15 minutes. (Do not stir.) Remove from the heat and let stand, covered, for 5 minutes. Stir in snow peas, cover and let stand for 5 minutes more.
Meanwhile, whisk 3 tablespoons canola oil, the remaining 2 teaspoons tamari (or soy sauce), vinegar and sesame oil in a large bowl. Add the quinoa and snow peas, scallions and bell pepper; toss to combine.
Remove the scallops from the marinade and pat dry. Heat a large skillet over medium-high until hot enough to evaporate a drop of water upon contact. Add the remaining 2 teaspoons canola oil and cook the scallops, turning once, until golden and just firm, about 2 minutes total. Gently stir the scallops into the quinoa salad.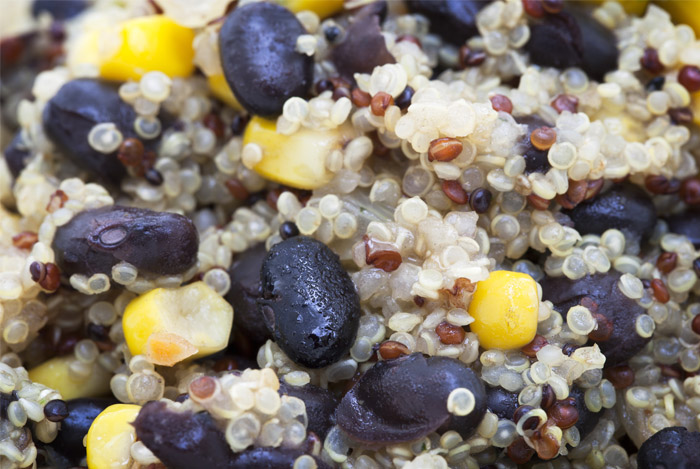 Lately, I cannot get enough black beans, for good reason. They're full of phytonutrients most people expect to be found only in more brightly colored fruits and vegetables.
The American Diabetes Association, the American Heart Association, and the American Cancer Society recommend legumes like black beans for their benefits in good health and preventing disease.
Mixing the benefits of black beans together in a veggie burger form? Sounds perfect to me.
Ingredients
½ cup dry quinoa
1 tsp olive oil
1/2 red onion, chopped
3 cloves garlic, minced
1/2 tsp Kosher salt, divided
1 (15 oz) can black beans, drained and rinsed
2 Tbsp tomato paste
1 large egg
2/3 cup frozen corn
1/2 cup cilantro, chopped
1 chipotle in adobo, minced
2 tsp ground cumin
1/2 cup rolled oats
1/4 cup oat flour
Yogurt Sauce
½ cup plain fat-free Greek yogurt
1 Tbsp honey
1 Tbsp Dijon mustard
Directions
Place the quinoa in a small saucepan with 1 cup of water. Set the saucepan over medium-high heat and bring to a boil. Reduce heat to low, cover the pan, and cook 10-15 minutes until the water is absorbed and quinoa is cooked. Remove from heat.
Heat the oil in a small pan over medium heat and add the onion and garlic. Add 1/4 teaspoon salt and sauté until onions are softened, 5-6 minutes. Place the mixture into a large bowl. Add black beans to the bowl and using a potato masher or fork, mash together until a pasty mixture forms.
Stir in the tomato paste, egg, corn, cilantro, chipotles, cumin and remaining 1/4 teaspoon salt. Stir in the cooked quinoa, oats, and oat flour until well mixed. Form the mixture into 6 equal patties, compacting them well with your hands as you form them. Place the patties on a baking sheet, cover them with plastic wrap and refrigerate for at least a few hours or overnight.
This recipe allows you to make spring rolls by substituting quinoa for the usual rice noodles. And trust me, the quinoa with the veggies, roasted shrimp, and spicy peanut sauce will hit the spot.
Ingredients
1 pound medium shrimp, peeled and deveined
12 (16 cm) rice paper wrappers
Green leaf lettuce
1 ½ cups cooked quinoa
1 cucumber, julienned
1 carrot, peeled and julienned
Spicy Peanut Sauce
Directions
Preheat oven to 400 degrees F. Line a baking sheet with parchment paper.
To make the dipping sauce, whisk together peanut butter, water, hoisin and Sriracha in a small bowl; set aside.
Place shrimp onto the prepared baking sheet. Place into oven and roast just until pink, firm and cooked through, about 6-8 minutes. Let cool before slicing in half lengthwise.
Working one at a time, wet rice paper for 10 seconds and transfer to a work surface; place lettuce leaf in the center of each wrapper and top with 2 tablespoons quinoa, 3 slices of cucumber and carrot sticks each and 3 shrimp halves, cut sides down.
Bring the bottom edge of the wrap tightly over the filling and then folding in the sides, rolling from bottom to top until the top of the sheet is reached, being careful not to tear the rice paper. Repeat with remaining wrappers and filling.
Serve immediately with spicy peanut sauce.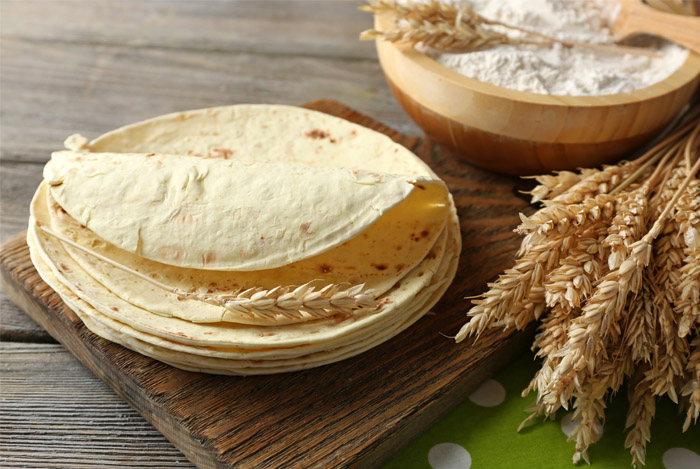 I really do love broccoli. In fact, I even wrote a whole post solely about the awesome health benefits of the crazy mini-trees!
Broccoli and quinoa sounded to me like the perfect mixture of new and old favorites, so I had to include it on this list.
Ingredients
1/4 c. quinoa, cooked in vegetable broth according to package directions
1/2 c. frozen chopped broccoli, thawed
1 c. shredded sharp cheddar cheese
Salt + pepper for taste
4 medium whole wheat tortillas
2 tsp. olive oil
Directions
Combine quinoa, broccoli, and cheese in a medium bowl. Season with salt and pepper to taste. Divide mixture evenly onto one half of each tortilla; fold top of tortilla onto filling.
Heat one teaspoon of oil in a medium cast iron skillet over medium heat; swirl to coat. Place 2 quesadillas in skillet and cook until browned, about 3 minutes on each side. Add another teaspoon of oil to skillet and repeat with remaining quesadillas. Cut into wedges and serve.
And there you have it, 8 recipes that'll solve the problem of figuring out what you can do with your newfound love for quinoa. Totally worth the risk, right?
Do you love quinoa? If so, share your favorite recipes in the comments below!
The post 8 Delicious Quinoa Recipes appeared first on Nutrition Secrets.
http://www.nutritionsecrets.com/delicious-quinoa-recipes/