If you don't have a light up phone case to add that model-worthy glow to your selfies, you're going to have to let your skin glow the old fashioned way: by eating a nutritious diet filled with vitamins and nutrients that truly love your skin.
"What you eat can affect your hormone balance, cause acne, and create or lessen inflammation, which is associated with skin aging", says Jessica Wu, MD, a dermatologist in Los Angeles.
From hormonal pimples to frustrating blackheads, when your skin looks less than perfect, you just don't feel like yourself.
"Your skin is your body's largest and fastest-growing organ" and when you give it the nutrients it needs, you're going to see great results.
Let's face it: we all want firm, blemish-free skin that seems to radiate from within. Oh and hold the wrinkles thanks!
So before you spend tons of money on skin-clearing topical systems that promise these results, try adding these 15 miracle foods for glowing skin to your diet first.
Let's see what makes these foods so darn good for your skin.
All Hail Vitamin C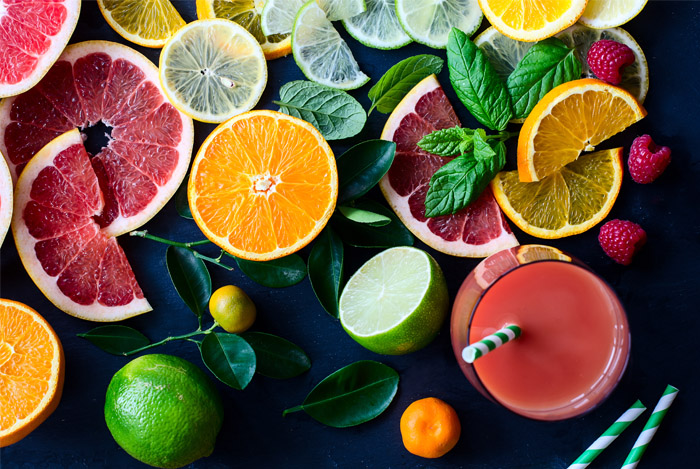 Free radicals are highly unstable molecules that mess with our cells and rapidly age our skin. We create free radicals in our body through normal metabolic processes, but we're also exposed to them via UV from the sun and pollution.
Vitamin C is a killer antioxidant that fights the damage caused by free radicals. It not only attacks them, but it actually protects you from them.
Plus, you need vitamin C to create collagen, which is what gives your skin the firmness and elasticity that just screams healthy and beautiful.
When your collagen game is strong, your overall skin texture improves and your skin's even able to smooth out wrinkles.
1. Yellow Bell Peppers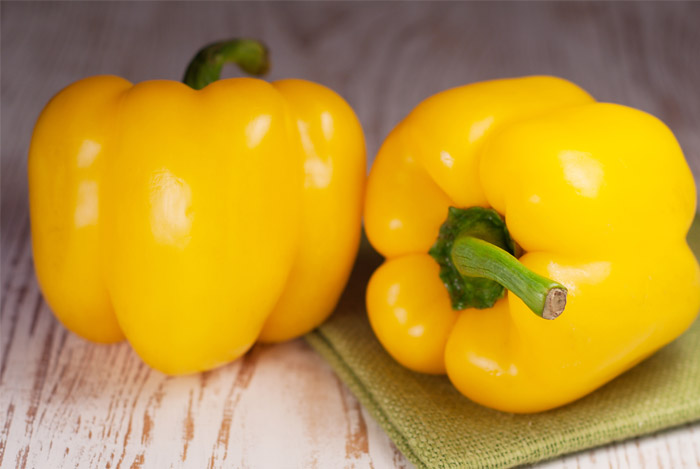 One yellow bell pepper has 341.3 mg of vitamin C, or a whopping 569% of your daily value (DV).
According to researchers from one study, women who ate the most yellow and green veggies had fewer wrinkles than those who only ate minimal amounts of them.
What's even better is that researchers noticed that the women had especially less-noticeable wrinkles in the crow's feet area, which is a tell-tale spot for signs of aging.
Expensive eye wrinkle cream? See ya later.
2. Kiwi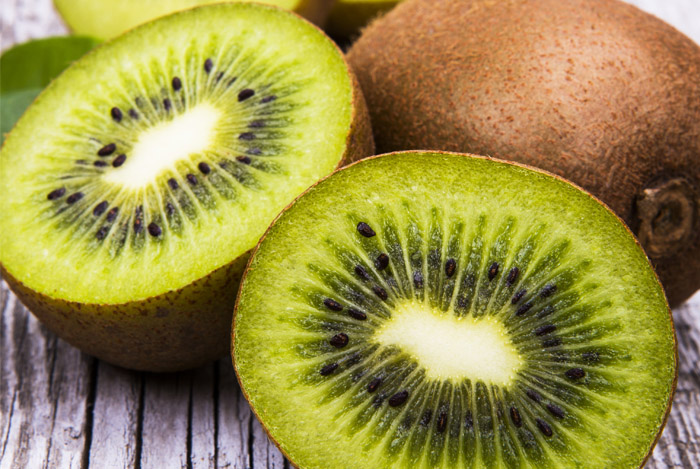 Another study verifies that by increasing vitamin C in your diet, you'll not only notice fewer wrinkles, but you'll also experience less dryness.
Anyone who's ever suffered with the uncomfortable tightness and skin peeling associated with dry skin should definitely increase their vitamin C intake.
If you're looking to add a quick and easy dose of vitamin C, reach for a kiwi.
Just one of these little green guys will give you 64 mg of vitamin C, which is 107% of your DV!
Make sure to leave the skins on your kiwi when you eat them, kiwi skin "contains three times the anti­oxidants of the pulp", which means three times the free radical fighting properties to help your skin glow!
3. Tomatoes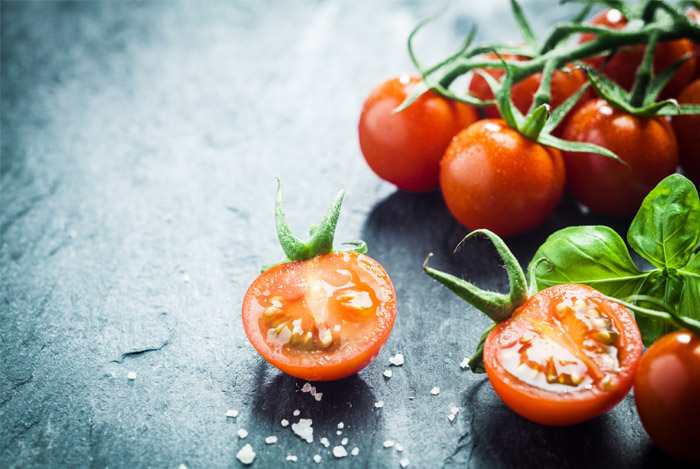 Seriously, if you're not eating tomatoes every day, you need to get on it!
Tomatoes are jam-packed with powerful antioxidants and tons of vitamin C. Just one cup of tomato juice has around 45 mg of vitamin C, or about 74% of your DV.
Researchers from one study discovered that when participants ate five tablespoons of tomato paste and a tablespoon of heart healthy olive oil every day for 12 weeks, they had "33 per cent more protection against sunburn" when exposed to UV light.
Besides the skin-loving vitamin C, scientists credit the super concentrated amounts of lycopene in the tomato paste with these awesome results.
Lycopene, the antioxidant responsible for giving tomatoes their signature red color, also improves our skin's natural SPF and even stimulates circulation.
You'll be well on your way to glowing skin with tomato's help.
Say Hello to Vitamin E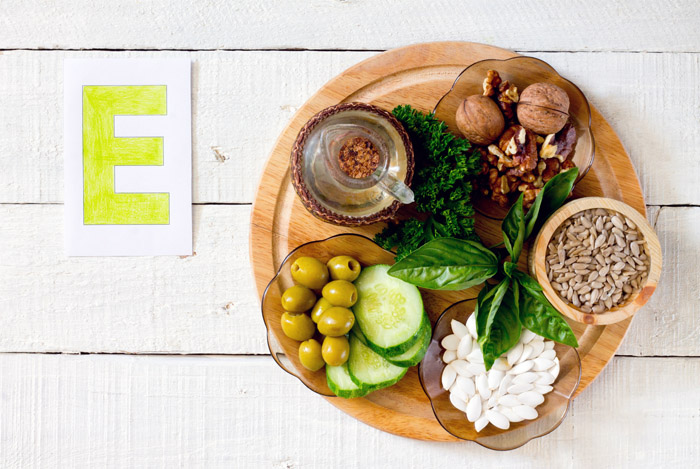 A study published in Clinical and Experimental Dermatology led researchers to learn that people suffering from severe acne had vitamin E levels that were 30% lower than those of people basking in the glow of clear skin.
By making sure to include vitamin E in your diet, you'll be strengthening your immune system and staving off inflammation, which also leads to acne.
Vitamin E, just like vitamin C, protects your cells against damaging free radicals and even "promotes healthy circulation by helping you make red blood cells".
It also boosts the radiance and natural vitality of your skin so you beam picture-perfect health.
4. Sunflower Seeds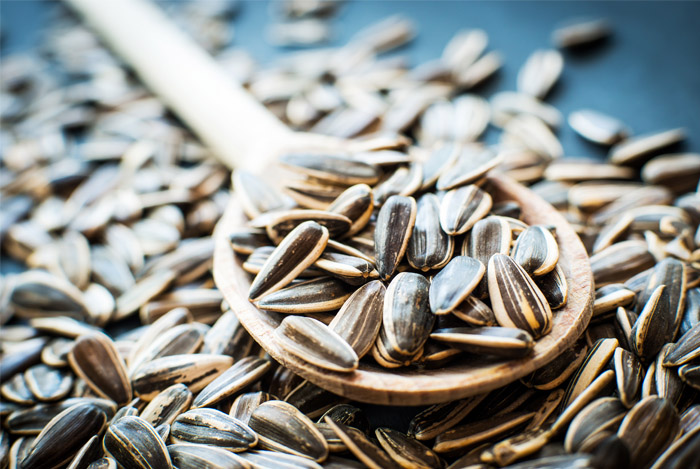 One ounce (or two tablespoons) of sunflower seeds packs 10.2 mg of vitamin E. That's 49% of your DV!
Sunflower seeds are one snack you need to keep on hand if you're prone to acne-ridden skin. Plus, they're always good to have around for those hormonal breakouts that happen every month.
5. Almonds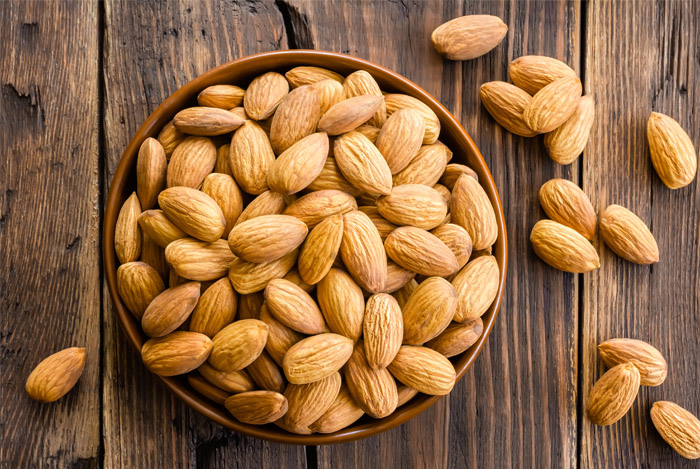 As if you needed another reason to love those amazing almonds, go ahead and add healthy skin to your list of benefits.
One ounce of almonds has 6.9 mg of vitamin E, which equals 35% of your DV.
Volunteers from one study who consumed around 20 almonds before they were exposed to UV light reported less sunburn that those who didn't eat the almonds.
As Jeffrey Dover, M.D., associate clinical professor of dermatology at Yale University, explains:
"Vitamin E acts as an antioxidant that helps to protect skin cells from UV light and other environmental factors that generate cell-damaging free radicals".
More skin protection equals healthier, beautiful skin.
6. Avocado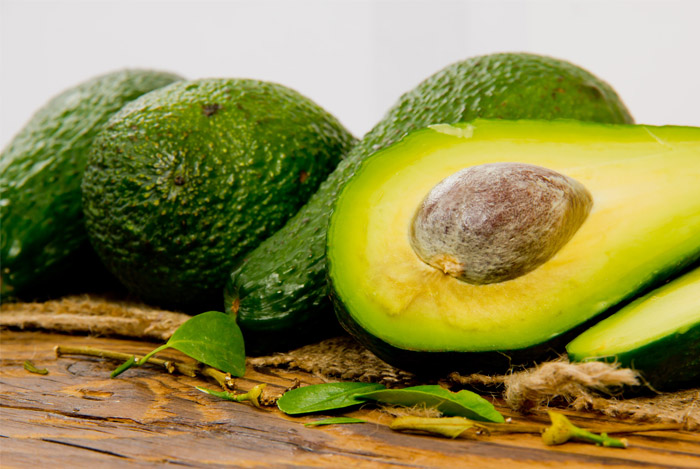 Avocados have both vitamin E and vitamin C, so they're a no-brainer addition to your glowing skin diet.
There's 4.2 mg of vitamin E (20% DV) and 12 mg of vitamin C (20% DV) in one delicious avocado.
But you can also enjoy these health benefits by using the ever versatile avocado oil, which stimulates the creation of collagen to improve your skin's supple texture.
Don't forget: there's an incredible amount of healthy fats in avocados and avocado oil so you'll also have ultra moisturized and hydrated skin, which makes your skin look and feel younger and healthier.
Vitamin A for A+ Skin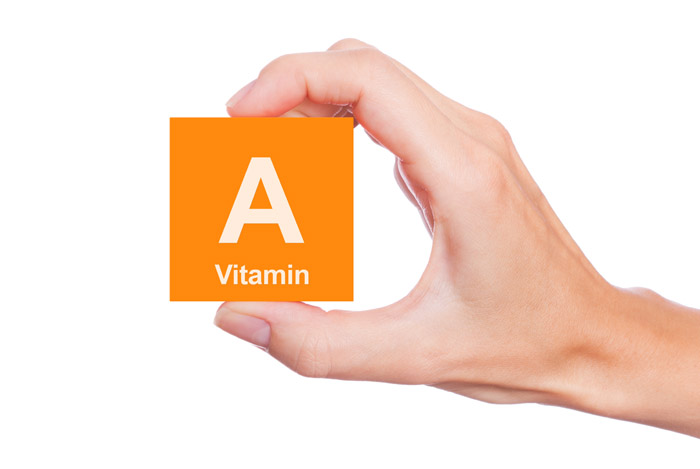 Vitamin A helps maintain and heal your tissues by controlling your skin cells' regeneration.
You can think of vitamin A like an internal micro dermabrasion; just like an exfoliator sloughs off dead skin cells to reveal bright new skin, vitamin A actually creates those new skin cells.
When you're lacking vitamin A in your diet, you're probably going to feel a little dryness in your skin. But adding foods packed with vitamin A will give you some relief, especially if you're dealing with eczema or psoriasis.
7. Pumpkin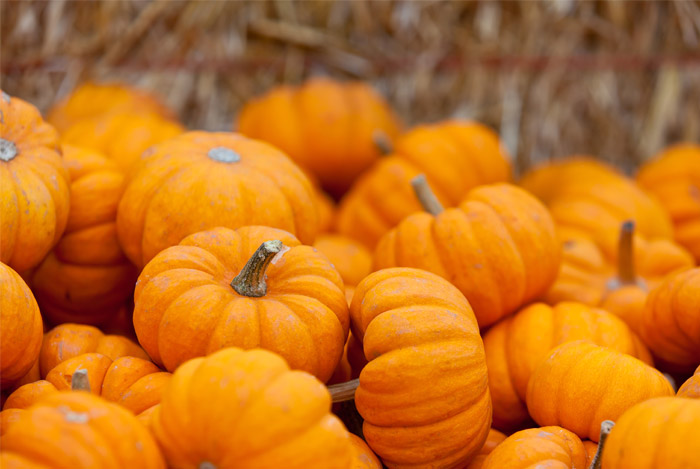 Every fall we're inundated with pumpkin this and pumpkin spice that, so isn't it wonderful to know that pumpkin's one of the healthiest foods for your skin?
Pumpkin's warm orange color comes from the extraordinary antioxidant beta-carotene. When you eat foods with beta-carotene, your body converts it to skin-loving vitamin A.
One cup of cooked pumpkin has 38,135 IU of vitamin A, which is (get ready for it), 763% of your DV.
Holy guacamole! You're going to have some smooth, soft skin this fall thanks to the autumn miracle pumpkin.
8. Carrots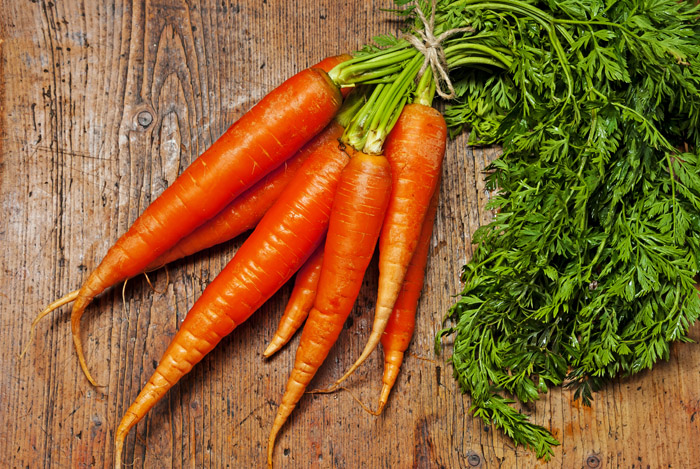 Pale skin can be a sign of unhealthiness, but if tanning isn't your thing (because it's so bad for your skin!), fake that healthy vacation glow with some carrots.
Research suggests that when people load up on carotenoid containing foods such as carrots, they actually have a natural glow to their skin akin to suntanning.
Snack on some carrots and hummus at your desk and pretend you're sunbathing in Bali to make your day go a little bit faster.
Zinc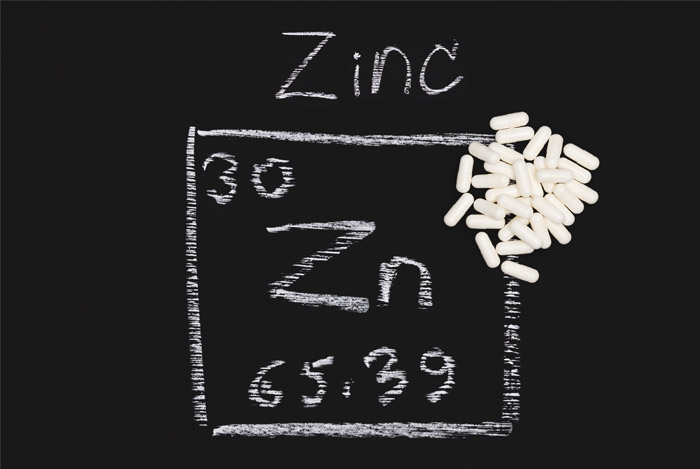 If you're low on zinc, don't be surprised if you start seeing outcrops of acne all over your face.
Zinc supports your cell membranes to make them strong enough to resist the damage caused by free radicals.
Your body also uses zinc to help make collagen and elastin, which are both crucial for preventing wrinkles and that saggy appearance tired skin seems to have.
Not getting enough zinc actually slows down the sloughing and regeneration process so your skin appears dull instead of radiant.
9. Grass-Fed Beef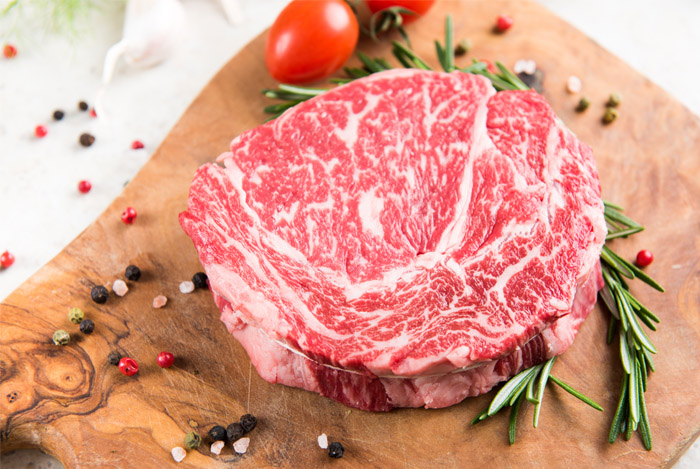 Animal sources of zinc are better absorbed by the body than plant sources. Grass-fed beef serves up close to 5 mg of zinc for 30% of your DV in a 3.5 oz serving.
But that's not all.
That same serving also dishes up nearly 30 g of protein. Both collagen and elastin need the vital protein building blocks found in grass-fed beef to create your healthiest skin ever.
There's also a higher ratio of healthy omega-3 fatty acids and omega-6s. When you eat more omega-3s, you reduce inflammation and pave the way for glowing skin.
10. Cooked Oysters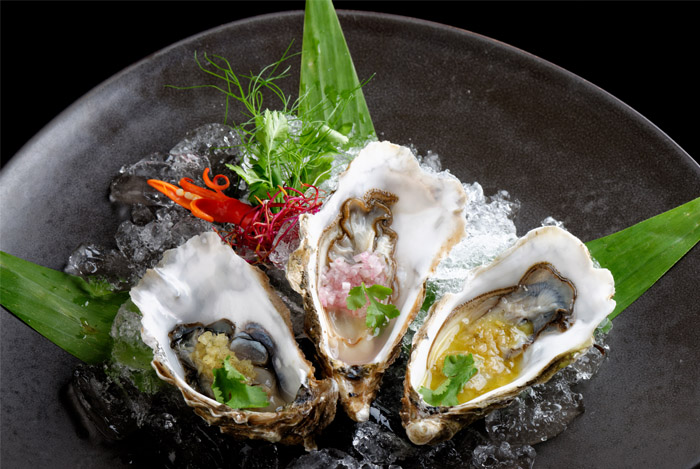 Whether you love them or get weirded out by them, oysters are one of the healthiest zinc sources on the planet, packing 33 mg, aka 220% of your DV, per half dozen.
They're also great for keeping the common cold away and boosting your chances of fertility.
Is there nothing these little guys can't do?
Essential Fatty Acids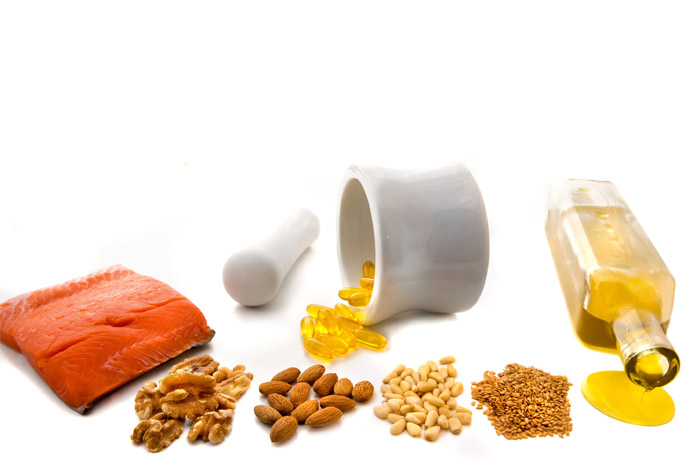 Essential fatty acids (EFAs) are so beneficial for your body, it's really no surprise that they're amazing for your skin.
When you lack EFAs you're going to have to deal with your fair share of acne, inflammation, and dryness.
Battling inflammation is no walk in the park; inflammation actually causes the spread of free radicals and is considered to be the cause of annoying acne.
Most people have a diet that's heavy on the omega-6 EFAs and not focused on omega-3s. But that's very incorrect (and super unhealthy!) so make sure you follow a low ratio diet focused on omega-3s.
11. Olive Oil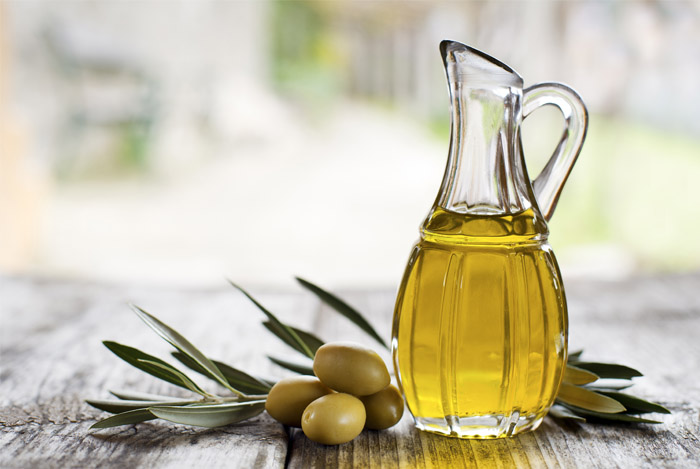 Researchers in one study examined the visible signs of aging in 1,264 women and 1,655 men between 45 and 60 years old. Using a "6-grade scale illustrated by photographs", researchers noticed fewer signs of photoaging in participants who reported eating the highest amounts of olive oil.
The antioxidant properties of the polyphenols in olive oil have been considered serious free radical fighters.
12. Sardines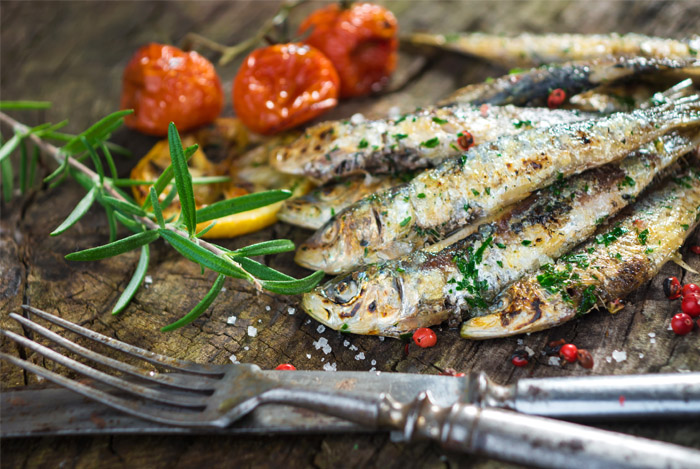 To ward off inflammation and acne, give these oily, protein-packed little fish a chance.
"Sardines are one of the best sources of omega-3s". They contain 1.8 g of omega-3s per 4-oz. serving.
Don't toss that oil if you're buying canned sardines! For every one tablespoon of sardine oil you'll get 3.7 g of omega-3s.
Skin Detoxers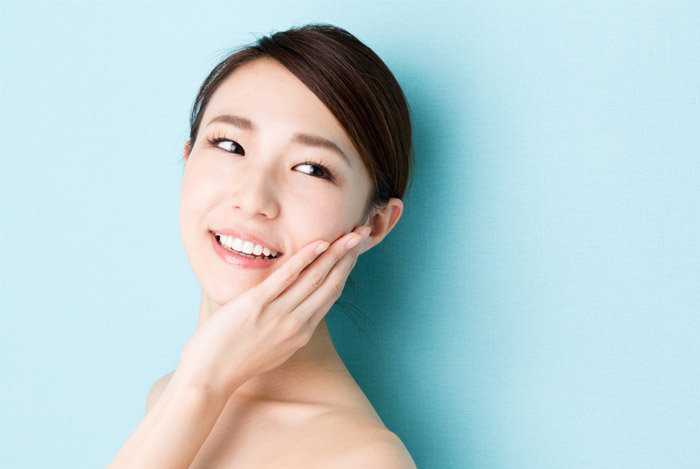 Don't buy into the detox marketing scam. Your body does a pretty good job at eliminating toxins on its own.
However, when bacteria gets trapped in your skin's pores, you're going to get acne and pimples ASAP.
That's why naturally detoxing foods will really help your skin out so it can get back to glowing and showing off your natural beauty (or handsomeness!).
13. Watercress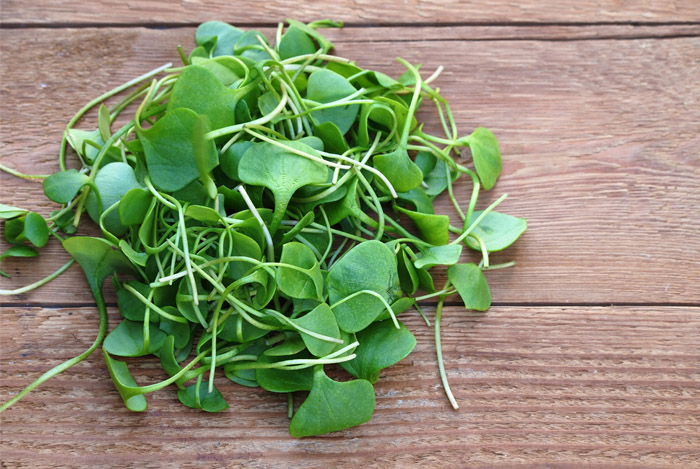 A staple at country clubs and tea parties all over the world, the crisp and slightly peppery watercress makes for a delightful change when you're getting tired of kale salads.
Watercress is full of antioxidants and minerals that help to flush out toxins and improve our skin's health.
10 out of 11 women in one study experienced "visible improvements to their skin" in just four weeks after adding one bag of watercress to their diet every day.
The women reported a reduction in visible wrinkles, improvements in skin texture, a decrease in brown spots, and fewer skin bacteria due to their eating watercress.
14. Green Tea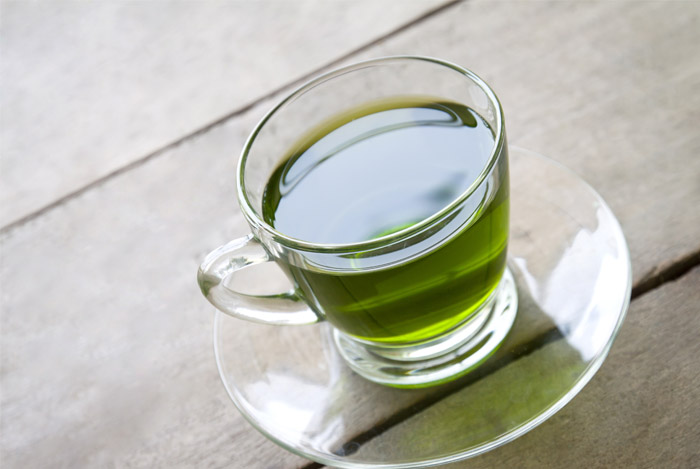 The number one rule to follow when aiming for healthy skin that glows is staying hydrated.
What better way to stay hydrated than by drinking the healthiest drink in the world?
One study examined the effects of drinking green tea every day for 12 weeks. Researchers concluded that the polyphenols found in green tea gave participants more elastic, smooth skin that resisted sun damage by 25%.
Plus, the awe-inspiring catechins like EGCG promote healthy oxygen and blood flow to your skin so good nutrients go in and toxins say sayonara.
15. Whole Grains Have It All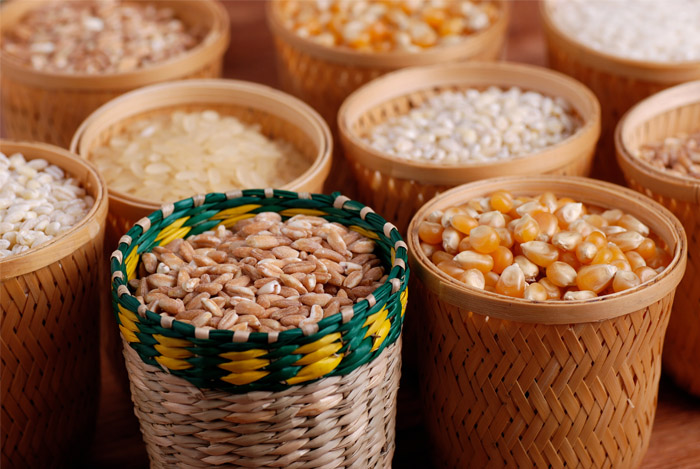 This last item on our list of foods to help your skin glow is more than a single food, it's a lifestyle change.
If you're a regular follower of the blog (and you should be!), you know I have two enemies in the nutrition world: sugar and processed, refined grains.
Sugar and refined carbs increase the amount of free radicals being released in your body. They literally damage your insides, which affects your skin's appearance on the outside.
The sugar in white flour goods such as white bread, pasta, and sweets breaks down the collagen your skin so desperately needs.
Plus, it triggers the body to make insulin and increase the production of androgens, hormones that when elevated, cause the glands in your skin to create more oil that gets trapped in your pores and causes pimples.
Nobody wants that.
Stick to whole grains such as:
By adding these delicious foods, which by the way, all taste better than junk food, you'll be on your way to stunning selfies that rack up tons of likes.
While all these foods will help you achieve that movie-star-skin glow, they're also super healthy for you. You may wonder if your skin starts glowing because of these foods or because you're radiating good nutrition and positive health benefits from within.
Shine on, you healthy nutrition lovers!
Which of these skin-loving foods will be making a cameo in your next glowing skin selfie? Share your thoughts with me in the comments! I'd love to hear what you think about this list of miracle foods.
The post 15 Miracle Foods for Glowing Skin appeared first on Nutrition Secrets.
http://www.nutritionsecrets.com/miracle-foods-for-glowing-skin/