It's true – chocolate can actually be good for you!
No longer do chocoholics everywhere have to enjoy their guilty pleasure in secrecy. Chocolate has so many health benefits it can actually be classed as somewhat of a superfood.
Think it sounds too good to be true?
Have a read of my post and see for yourself: 8 Amazing Health Benefits of Dark Chocolate.
Of course, like everything else, chocolate should be enjoyed in moderation. And you'll need to choose a dark chocolate with 70% to 85% cacao solids for the most antioxidant power.
Most of these 11 healthy recipes call for cocoa powder, the raw ingredient in dark chocolate. Again, always choose a high quality brand, with no added sweeteners or sugar.
So go on…enjoy the following recipes completely guilt free.
Chocolate Chip Banana Bread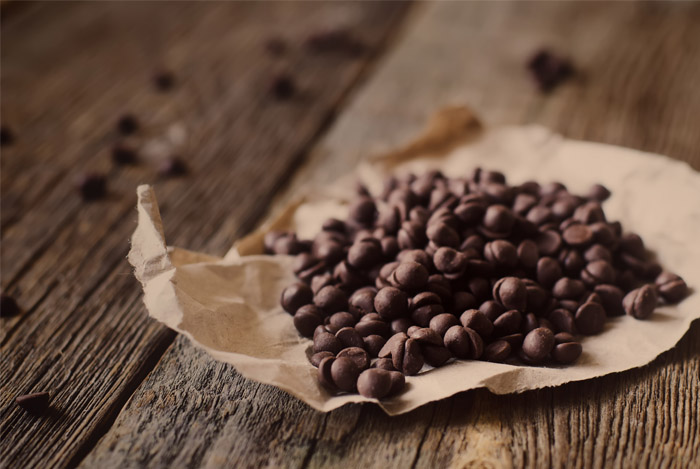 This delicious moist banana bread recipe from Chocolate Covered Katie is free from flour and refined sugar.
But don't worry, the sweetness from the ripe bananas and the chocolate chips will satisfy any sweet tooth.
It will also keep you full, thanks to a fiber in oats known as beta-glucan. This fiber is one of the reasons that oats are great for lowering bad cholesterol and blood pressure levels, and reducing the risk of heart disease.
I used almond milk in this recipe, but feel free to use any milk you'd like. Not sure which one to try? Check out all these great tasting alternatives to dairy milk.
Ingredients (makes a 9 x 5 loaf)
2 & 1/2 cups rolled oats
1 & 3/4 cups mashed banana
1 tsp baking soda
1/2 tsp cinnamon
3/4 tsp baking powder
3/4 tsp salt
1 & 1/2 tsp pure vanilla extract
1/3 cup milk of choice
1/2 cup pure maple syrup or honey
1 & 1/2 tbsp vinegar
1/2 cup mini dark chocolate chips
Directions
Preheat oven to 350 F, and grease or line a 9×5 loaf pan.
Put the oats in a blender and blend until a fine powder forms. Add all other ingredients (except chocolate chips) and blend until smooth. Then stir in the chips.
Pour batter into loaf pan and bake for 35 minutes. Turn the oven off, but don't open the door. Allow bread to sit for another 10 minutes.
Remove and allow cool completely before removing from the pan.
Raw Chocolate Pudding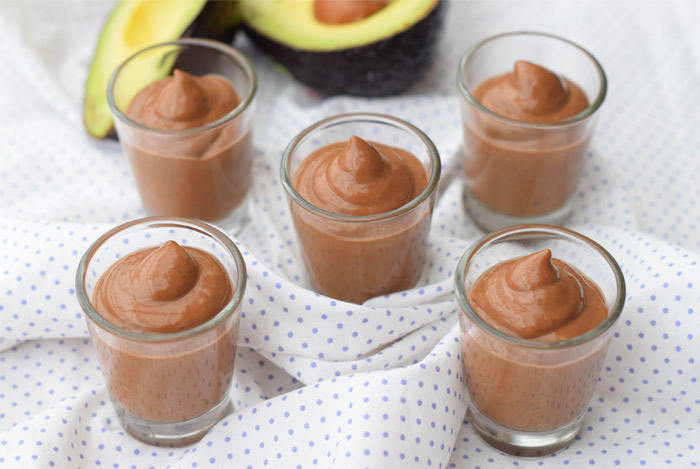 This recipe by the Rawtarian has a surprise ingredient that you'd never think was there just by tasting it.
What is it?
It's avocado!
Sounds strange I know, but it's the secret behind this raw pudding's creamy, rich texture and flavor.
A source of healthy fats, avocado can help you achieve glowing skin and glossy hair. It also helps your bones, heart and eyesight.
Oh, and according to Dr Mercola, avocado helps you manage your weight, by increasing satiety and reducing blood sugar dips.
Who knew eating dessert could be so healthy?
In addition to keeping you full, this dessert will boost your energy levels thanks to the natural sugar content of the dates. Dates can also help with digestive discomfort and even rev up your libido.
I like to eat this pudding topped with fresh raspberries or strawberries.
Ingredients (serves 4)
1 medium, perfectly ripe avocado
1/2 cup dates
2 & 1/2 tbsp raw cocoa powder
1/4 cup water & 1/8 cup water
1 & 1/2 tablespoons honey
1/8 tsp sea salt
Directions
Blend all ingredients in a high-speed blender until smooth. You may need to add a tiny bit of extra water to get it really smooth but too much will ruin the consistency.
Pour into serving bowls and enjoy.
Peanut Butter Chocolate Banana Soft Serve 'Ice Cream'
If you haven't tried this kind of delicious and healthy alternative to sweet ice-cream then you're missing out. You won't be able to tell the difference!
This particular recipe comes courtesy of the Healthy Maven and is extra tasty thanks to the addition of peanut butter.
One tablespoon of smooth peanut butter, with no added salt, will provide you with almost 4 g of protein, according to the USDA.
Did I mention it only has three ingredients?
Ingredients (serves 3)
3 large ripe bananas, chopped and frozen
2 tbsp unsweetened cocoa powder
3 tbsp natural peanut butter
Directions
Add the bananas, cocoa and two tablespoons of peanut butter to a food processor. Process until it takes on the consistency of ice-cream.
Stir in the remaining tablespoon of peanut butter to create 'chunks'.
Chocolate Chia Pudding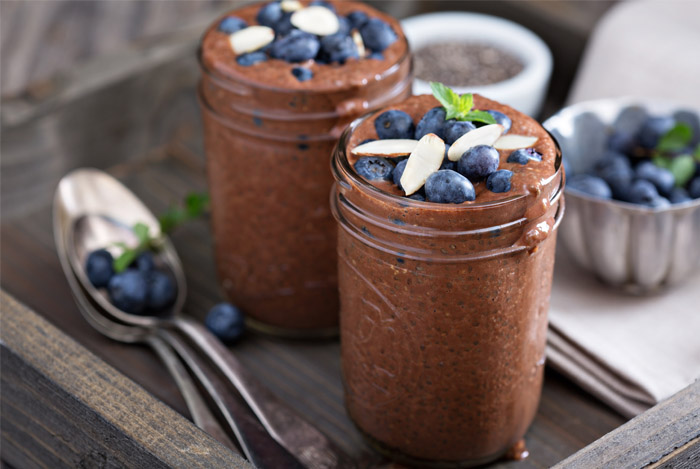 Chia puddings like this one from Madeline Shaw are equally good for breakfast, desserts or snacks.
I've already featured a chia pudding in my 12 Healthy Breakfast Ideas. But this recipe here is flavored with both cacao and a sweetener like stevia or honey, making it that little bit more indulgent.
It still has all the nutritional power of chia seeds including around 42% of your daily recommended amount of fiber, and 18% of calcium per serving of seeds.
The lauric acid in the coconut milk will benefit your skin and hair and its antiviral and antibacterial abilities may even protect you from illness.
Even though a lot of added sweeteners are unhealthy, stevia is one exception. As long as you use the highest quality stevia you can find, and enjoy it sparingly, it can even help with weight control and diabetes.
Ingredients (makes 3 small pots)
2/3 cup coconut milk
4 tbsp chia seeds
1/2 tsp of stevia or 1 tbsp of honey
3 tbsp of raw cacao
pinch of sea salt
Directions
Mix all ingredients in a bowl.
Place in 3 small jars, and refrigerate for at least 3 hours, or overnight.
Top with fruit, coconut or seeds.
Chocolate Hemp Repair Bars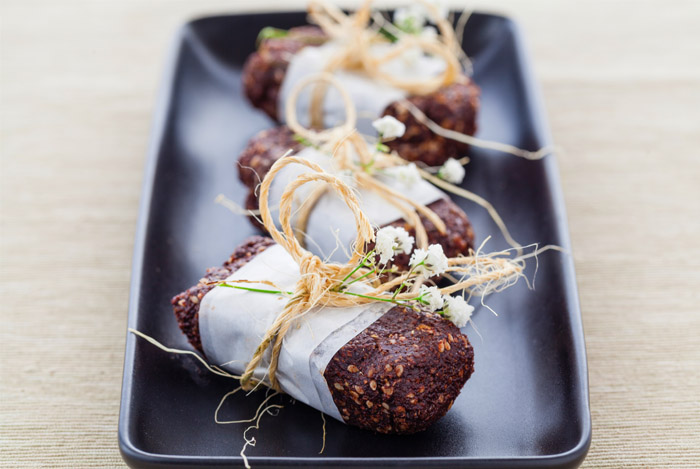 These energy bars by Leanne at Healthful Pursuit are perfect for busy, health conscious people. They're quick to make, portable, sugar free, gluten free, dairy free and grain free.
They're still tasty and filling, with the texture of a soft cookie.
The hemp powder suggested in the recipe is a solid choice. After all, hemp is an absolute superfood – a great source of protein, a digestive aide, a metabolism booster and a hormone balancer.
In addition, the fiber rich seeds have a great balance of omega 3 and omega 6 fatty acids and contain all 20 amino acids, including the 9 essential ones.
You could always use whey protein if you prefer.
Ingredients (makes 12 bars)
1/2 cup almond butter
1/2 cup shredded unsweetened coconut
2 eggs
1/3 cup hemp protein powder (or powder of choice)
1/4 cup hemp seeds
1 tbsp cacao powder
1 tbsp ground chia seed
2 pinches of stevia powder
Directions
Preheat oven to 350F and line a cookie sheet with parchment paper or a silicon baking mat.
Add all ingredients to a bowl and mix well.
Divide the dough into 1/4 cups and shape into a bar. Bake for 10 to 15 minutes until cooked throughout.
Allow to cool for 5 minutes before transferring to a cooling rack.
Gluten Free, Flourless Black Bean Brownie Muffins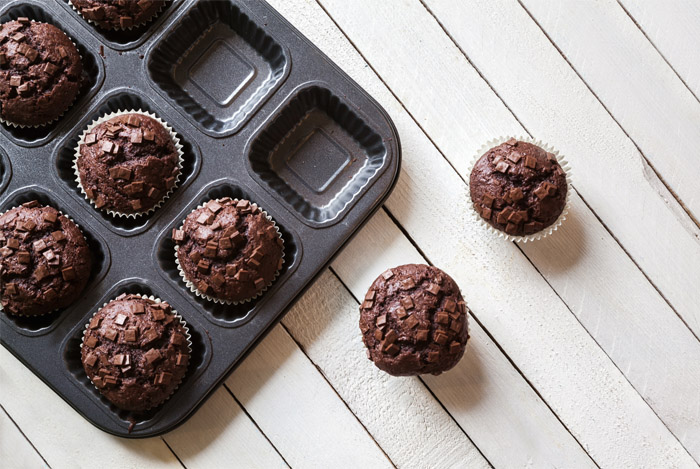 Even though many think that gluten free recipes are bland and unfulfilling, that couldn't be further from the truth.
These brownies are a case in point – good news for those with celiac disease or a gluten intolerance.
And don't let the fact that these muffins contain black beans put you off. While it sounds weird it totally works.
I'm all about hiding healthy foods in desserts and it seems that Monique at Ambitious Kitchen is too – she's the creator of this recipe.
Gram for gram, black beans give you a hefty dose of protein and fiber, yet you can't even taste them in this recipe. Thanks to their flavonoids, they can also help reduce cancer risk, and will regulate blood sugar levels.
Each muffin has just 159 calories, 2.4 g of fiber and 4.2 g of protein.
Ingredients (makes 12)
1 x 15 oz can of black beans, rinsed and drained
3 eggs
1/2 cup pure maple syrup
2 tbsp coconut oil, melted and cooled
1 tsp vanilla extract
1 tbsp brewed coffee
1/2 cup unsweetened cocoa powder
1 tsp baking powder
1/4 tsp salt
1/3 cup chocolate chips, plus 3 tablespoons for sprinkling on top
Directions
Preheat oven to 350F. Line a 12 cup muffin tin with baking liners.
Place black beans and 1 egg in food processor and process until beans are well blended. Add the other eggs, maple syrup, coconut oil, vanilla and coffee; process again until smooth. Next add cocoa powder and baking powder; process until smooth. Fold in 1/3 cup of chocolate chips.
Divide batter evenly among muffin cups. Sprinkle remaining chocolate chips on top. Bake for 25 minutes or until cooked throughout. Place on wire rack to cool for 10 minutes, then remove muffins from tin and transfer to wire rack to cool completely.
Chocolate Hummus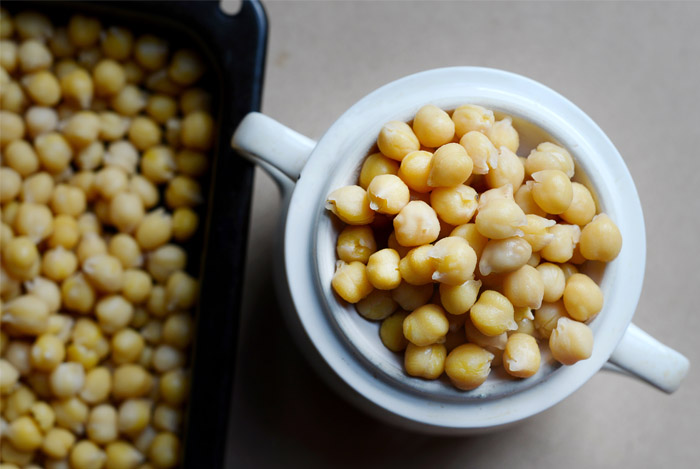 First black beans in dessert and now chickpeas?
I know, I know…I'm pushing it!
But seriously, chickpeas work in desserts too.
This chocolate hummus is really similar to Nutella and is just as versatile. But it only has a third of the calories and sugar.
Use it as a fruit dip, on top of oatmeal or even with high protein 2-ingredient pancakes for a healthy twist on Nutella crepes!
Thanks to the chickpeas' fiber content, and cinnamon's appetite suppressing properties, chocolate hummus is a perfect snack for when you're ravenous but it's not quite lunchtime.
This low glycemic, soy-free, dairy-free treat comes from Greatist.com.
Ingredients
1 x 15 oz can chickpeas, rinsed and drained
3 tbsp unsweetened cocoa powder
1/4 cup maple syrup
1/4 tsp vanilla extract
Cinnamon, to taste
Sea salt, to taste
Water, as needed
Directions
Add all ingredients except water to a food processor, and process until smooth. Add water in small amounts, as needed, until desired consistency is reached.
Hide-the-Spinach Chocolate Smoothie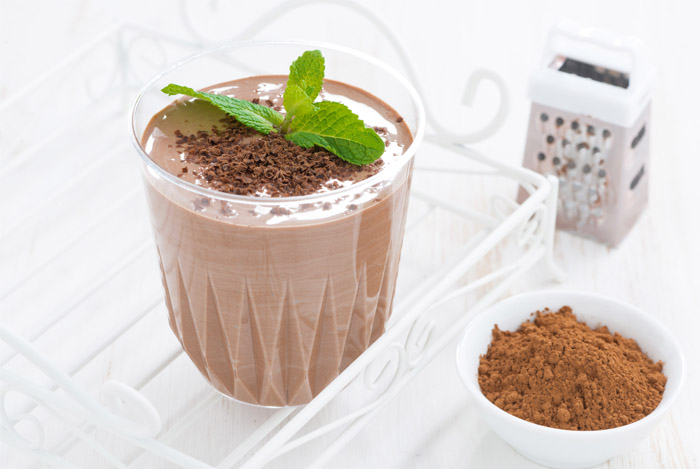 I'll give you a tip – if you hate greens in smoothies, then chocolate is an awesome way of hiding them.
Don't believe me? Try it out in this smoothie recipe from the Blender Girl.
The cocoa powder totally masks the flavor of the baby spinach and both the bananas and dates add sweetness and an energy boost, so you've got no excuse not to drink your greens in the morning.
Research says that drinking a spinach shake in the morning may significantly lower hunger throughout the day and promote weight loss.
That's not where spinach's health benefits end though. This little leaf is even healthier than kale, thanks to its high nutrient content.
One cup of boiled spinach contains 1100% of your RDV of vitamin K, sometimes known as the 'forgotten vitamin'! Not only is vitamin K vital for blood and bone health, but it's an important adjunct to vitamin D in the body.
Ingredients (serves 2 to 4)
2 cups milk of choice
3 cups raw baby spinach
2 bananas
6 pitted organic dates
3 tbsp cacao or unsweetened cocoa powder
1 tsp pure vanilla extract
pinch sea salt
ice (optional)
Directions
Blend all ingredients until smooth, rich and creamy.
Raw Almond Butter Cups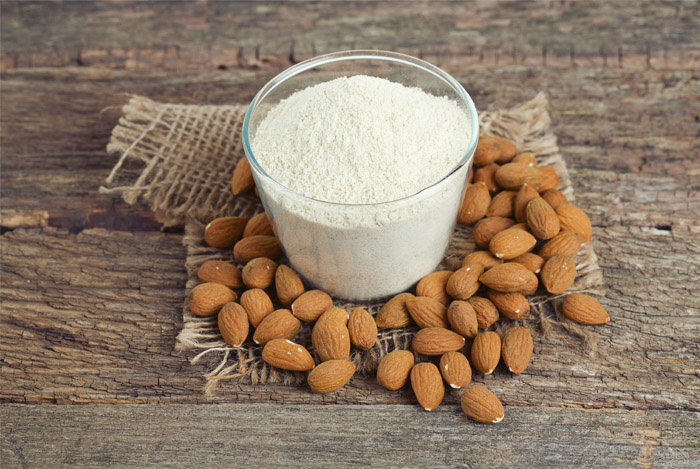 A healthier take on Reese's Peanut Butter Cups, this recipe from Angela Liddon at Oh She Glows is a winner in my book. I mean, the base of these tastes just like cookie dough.
You can also easily make these treats gluten-free by using certified gluten-free oats.
If you don't like nuts, or have an allergy, make a nut-free version by using more rolled oats instead of the almond meal, and sunflower seed butter instead of almond.
Both the base and the topping contain my favorite tropical oil and superfood – coconut oil.
Just like coconut milk, the oil is also full of anti-viral lauric acid, which helps balance cholesterol levels and promote healthy kidneys.
Ingredients (makes 12 mini cups)
For the base
3/4 cup raw almonds, ground into a meal
1/4 cup rolled oats, ground into a flour
2 tbsp raw almond butter
1 & 1/2 tbsp coconut oil, warmed if necessary
1 & 1/2 tablespoons pure maple syrup
1/4 tsp cinnamon
1/4 tsp pure vanilla extract
pinch of fine grain sea salt, to taste
For the topping
3 tbsp coconut oil
3 tbsp pure maple syrup
2 tbsp cocoa powder
pinch of fine grain sea salt, to taste
Directions
Add all base ingredients into a bowl and mix to form a sticky dough.
Line a muffin tin with paper liners and portion the dough into each muffin cup. Press down until even and smooth.
To make the topping, whisk together the four ingredients until no clumps remain. Spoon the sauce over top each of the cups, distributing evenly.
Freeze for 30-45 minutes, until firm. Best enjoyed straight from the freezer.
Raw Protein Chocolate Power Balls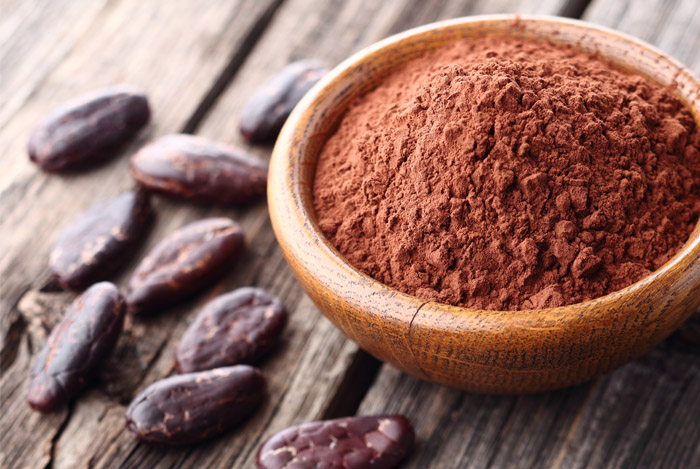 This recipe from Trinity's Conscious Kitchen makes seven super healthy raw protein balls – one for every day of the week.
Made with cacao, chia seeds, hemp protein, flax seeds and almond, they're high in protein, essential fatty acids and antioxidants.
Almonds, in particular, are chock full of antioxidants, making them a contender in the world's healthiest foods category, in my opinion.
Along with the antioxidant power, almonds have generous amounts of manganese and copper. One third of a cup of ground almonds (roughly the amount that's in this recipe) contains 36% of your RDV of manganese and 16% of copper.
According to Calorie Count's recipe calculator, each little teaspoon-sized ball has 3 g of protein, 3.1 g of fiber and 10% of your RDV of iron.
So if you can't limit yourself to just one (and really, they're so small), don't worry about it.
Ingredients (makes 7 balls)
2 tsp hemp protein
2 tbsp ground flax seed
1 tsp chia seeds
5 tbsp ground almonds
2 tbsp cacao powder
1 tbsp maple syrup
1/2 tsp vanilla extract
Directions
Add all ingredients into a bowl and mix until moist and evenly combined.
Divide into seven teaspoon sized parts and roll into balls. Store in the fridge or enjoy immediately.
'Hot Chocolate" Banana-Nut Oatmeal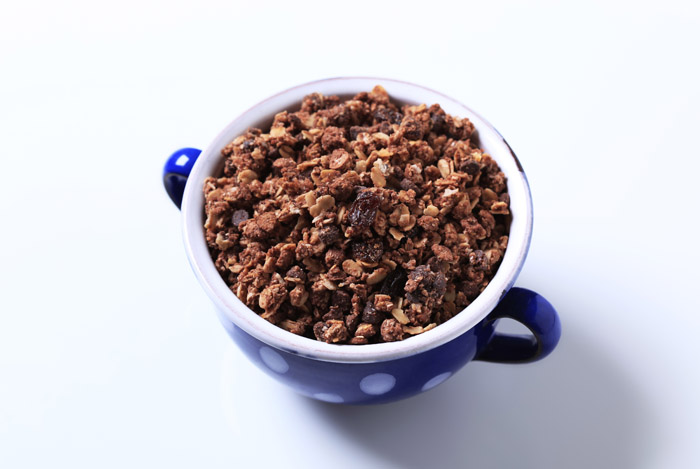 Proving you can have chocolate at any time of the day, this oatmeal recipe from the Food Network is both healthy and delicious.
If you don't eat oatmeal for breakfast, I would definitely recommend you give it a go. It's a simple and tasty way to get some fiber and nutrients into you first thing in the morning.
Oats are also a go-to food for those with high cholesterol, as they are known to lower the 'bad' kind. The FDA even gave oatmeal the status of a 'health claim', which means that oat manufacturers can advertise the heart-healthy benefits on the packaging.
By eating a bowl in the morning, you'll also help keep your blood pressure in check, boost your immune system, enjoy a healthy digestive system and perform better in the gym!
Plus, if you're really serious about lowering cholesterol, this breakfast might pack a double punch.
A study on walnuts and walnut oil found that participants experienced 'significant' improvement in cholesterol levels and blood vessel flexibility just four hours after consuming either the whole nuts or the oil.
Finally, honey is another superfood that deserves a mention. It can treat stomach ulcers, reduce memory decline and even cure a hangover. Perfect for when you've had one too many the night before.
Ingredients (serves 4)
2 cups plain almond milk
2 fully-ripened large bananas (1 & 1/2 diced and 1/2 thinly sliced crosswise)
1/4 tsp pure almond extract
1/4 tsp pure vanilla extract
Kosher salt
2 cups old-fashioned rolled oats
2 tbsp unsweetened cocoa powder
2 tbsp honey (or vegan alternative)
1/3 cup toasted and chopped walnuts
Pinch ground cinnamon
2 tbsp semisweet chocolate chips
Directions
Add the almond milk, 1 & 3/4 cups water, diced banana, almond and vanilla extracts and pinch of salt to a pot. Bring to a boil over high heat.
Stir in the oats, cocoa powder and 1 tablespoon of the honey and reduce the heat to medium. Cook, stirring frequently, until the oats are fully cooked.
Transfer to bowls, top with the sliced bananas, walnuts, the remaining honey, cinnamon and chocolate chips and serve.
Are you surprised by how many healthy chocolate recipes are out there? Will you be trying any of these?
The post 11 Healthy Recipes for Chocolate Lovers appeared first on Nutrition Secrets.
http://www.nutritionsecrets.com/healthy-chocolate-recipes/